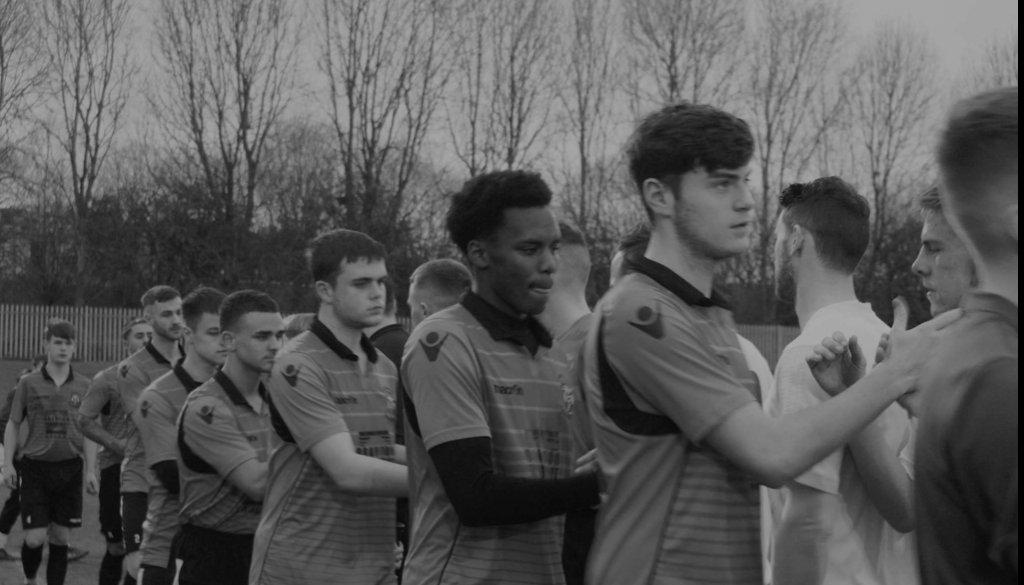 REACTIONS: NWCFL Managers give their thoughts on their NWCFL First Division North and South results
Sun 12th January 2020 | Manager Reactions
By Craig Kendall
NWCFL First Division North
Atherton LR manager Mark Robinson, "For large parts of the game we matched AFC Liverpool in terms of performance, we played some good composed football and at half time there was little between the teams.
"Unfortunately an individual mistake led to a second AFC Liverpool goal within 2 minutes of the restart but we fought hard to get back into the game and scored a great well-worked goal only for us to conceded again within a couple of minutes following another individual error.
"Overall our performances have been good, we are progressing and when we irradicate some of the small mistakes that we have been punished for, results will improve. Some good positives to take from today for us though."
Ashton Town joint-manager Lee Bignell, "Today was probably the worst first-half performance I have seen in my three seasons at Ashton. From back to front we were awful.
"Second half we looked a bit better but still not good enough. Fair play to Golcar they punished our mistakes and were clinical in front of goal. We seem to be in a bit of rut at the moment but I've got trust and faith in the lads and I am confident that we will get ourselves out of it.
"We need to put today firmly behind us and move on an focus on Tuesday's game now."
Chadderton manager David Fish, "Darwen came into the game as the league's form team and over the 90 minutes, you could see why. They were organised, hardworking and the front three were a constant threat.
"Yesterday's victory was different from the last two, as the conditions yesterday made it harder to play football and therefore the focus was on moving the ball forward quickly and asking questions of the Darwen defence.
"I thought we did that well but also showed a lot of grit to keep going each time Darwen equalised. It was a dogged and battling performance and reflects the current spirit in the squad.
"The goals were a bit special too, especially James Horan's winner in the 90th minute. We were right behind it and you could see it was destined for the top corner from the moment it left his foot.
"Our form through October and November may have left us too much to do to grab a promotion spot, but we are looking to finish the season as strongly as possible and see what happens."
Holker Old Boys manager Kevin Watkin, "A much-needed result after a very difficult run of games. I thought we were unlucky at Emley last week not to come away with anything and with how tight the league is every point counts and one win can change the league a lot.
"The performance first half playing up the hill against the torrential rain and usual strong winds was a huge positive and gave us a foundation to build on the second half.
"We were rewarded for the hard work and we moved the ball a lot better today, creating a lot of chances and today, fortunately, we put them away and the result was exactly what the lads deserved, it matched their performance level.
"We have to now match or improve the levels of performance consistently and with games coming thick and fast hopefully gather some momentum."
Daisy Hill manager Brian Hart, "What a day to go to Holker!
"Nightmare journey with M6 closed and a nightmare performance!
"Best consigned to the past! Usually, it's an odd couple that have an off day but today we had eleven below par. All credit to Holker who showed no mercy and took our gifts gladly! At the end of the day, it's three points lost.
"So we'll lick our wounds, regroup and move on to Steeton next week."
AFC Blackpool manager Martin Bird, "Disappointed not to get anything from today's game. Was always going to be a tough ask having eight missing with two dropping out in the morning and two the day before the game.
"But saying that we still had a side good enough to win the game but unfortunately when we defend the way we did and the manner how we conceded all four goals were not acceptable.
"We will pick ourselves back up as we can bounce back Tuesday with a tough month ahead that we all are looking forward too."
Nelson manager Andy Harrison, "We couldn't fault the lad's effort today. We missed some big chances in the first half and could have gone in three or four up. They came out second half and scored two scruffy goals from corners which we are disappointed with but we reacted well and deservedly equalised.
"But credit where credit is due to Pilkington they stuck at it on a terrible pitch and capitalised on a mistake at the back to take the three points.
"Difficult times at the minute, but we will keep going and turn it around I'm sure."
St Helens Town manager David Platt, "It was a tight game today versus Shelley. I didn't think either team showed the quality they were capable of but both worked hard and showed a lot of spirit.
"The Late goal was harsh we felt but that's the way it goes sometimes; a close game that went Shelley's way - sometimes the fact they are in good form and we aren't means that they get carried through the tougher parts of the game from a mentality point of view and we need to find that again.
"Good luck to Shelley for the rest of the season."
Shelley manager Ash Berry, "It was a tough game. We weren't at our best and St Helen's worked hard but always felt we just had enough to win the game.
"This keeps our run going and believe it was the first time they've lost in the league at home. So great three points."
NWCFL First Division South
Cheadle Heath Nomads manager Andy Gray," It was great to finally get a win again and against a good team in Abbey Hey who probably weren't at their best today, but we didn't let them play and I am very pleased about that. We've been playing well and threatening these results for a couple of weeks now without any luck.
"I felt we were very good value for the win and couldn't have been more pleased for the lads who battled and earned everything we got today.
"We scored four good goals, including one for Joe Knight on debut to start it off and a rare strike from Jack Warren which probably killed the game in the second half."
"Very pleased and hopefully we can use this to kick on in the league."
Abbey Hulton Utd manager Russell Leadbetter, "I will put our loss down to missed chances and stupid free-kicks being given away around our box. Other than that there's not too much to it.
"We played well but didn't take our chances. We conceded an own goal and then gave a free-kick away which landed to a free man in the box. If the second goal didn't go in I'd say we would have got something from the game, but it did. The second goal killed it. "
Ellesmere Rangers manager Connor Courtney, "It was a great three points away from home. We started well in the first half-hour and had a couple of chances for new signing Dave Howarth.
"After we got the goal we were in control and comfortable throughout the game. Fair play to Abbey who didn't stop working throughout and we killed their momentum when George Taylor finished from a brilliant cross from Dave Howarth.
"Overall, from when took over we had two points and now we have 22, credit to the lads who have been top draw."
Stockport Town manager Adam Jones," Obviously delighted with the three points, and to win it with two minutes to go makes it even sweeter!
"We didn't follow the game plan in the first half and they were told at half time, but the lads took the instructions on in the second half and we were by far the better team.
"We are not always going to be able to play nice attractive football especially going away from home where the pitches don't suit our style of play but we dug dip and thoroughly deserved the win.
"Over the moon with a couple of debutants also who quickly have bought into the Stockport Town way. A clerical error cost us a three-point deduction in the week so it's another hurdle we have had to overcome but we will fight every game and keep on fighting until its mathematically impossible to go up."
Barnton joint-manager Neil Murray, "We just weren't at the races today, which resulted in an embarrassment for all involved. We dust ourselves down and focus on training this week going into another huge game next Saturday.
"We will look to build on our belief and mentality and put right the wrongs of today."
New Mills manager David Birch, "We got what we deserved today...nothing! Cheadle was better than us all over the park and fully deserved the three points.
"We had all three forwards missing today but that's no excuse!
"The better team won. We have a lot of young lads who will learn from that."
Eccleshall manager Kyle Adams, "It was a good win today in some tough conditions. After the first 20 minutes, I thought it was one of the best performances of the season, to be honest.
"We made a few silly errors early on and we were lucky we weren't punished thanks to Louis making a couple of important saves. The goal just before half time was pretty big obviously and the composure from Louis Downs to finish was the first bit we'd shown in front of goal.
"I thought we were excellent second half. We moved the ball well, looked comfortable and never in any real danger. The second goal is always nice to give you that bit of breathing space and credit to Langers for reacting quickly for that.
"It's another three points that keeps us in touch with those above us and just ahead of a couple breathing down our neck. We've got a big few games coming up so we've got to make sure we stay focused and keep chipping away."
Cammell Laird 1907 manager Phil Burton, "Mistakes are killing us at the minute. To concede just before half time when we set up to defend the conditions cost us. We then had some good chances to draw level.
"The second goal effectively made it a tough task but when it's not your day it's not your day. The keeper makes outstanding save in 92nd minute which would have drawn us level. Overall pleased with the lad's effort and it's a step in the right direction.
"Well done to West Didsbury who have possibly one of the best players in the league in there number 7."
Wythenshawe Amateurs manager Martin Ivison," I'll give Sandbach credit they started with a great team spirit and certainly did their homework on us after Tuesday's result. It was a game of two half's and Sandbach dominated the first half and took their chance very well.
"Second half was all the Ammies but we couldn't get the breakthrough we deserved and ended up getting punished right near the end."
Sandbach United First-Team Coach Jason Doggett, "Outstanding performance today. The players played with purpose, passion & pride. Today meant something to them our club should be proud of them.
"Thanks to everyone that supported us & to all the volunteers working hard behind the scenes."
Wythenshawe Town manager James Kinsey, "A very evenly matched game. The referee and linesman have admitted amongst themselves at half time that they should have sent off a player for Oswestry at 0-0, also awarding a penalty that shouldn't have been. That's a big moment in the game.
"But ultimately we weren't good enough to warrant the three points. A draw would have been a fair result but we have to get on with it and go again!"
FC Oswestry Town manager Nathan Leonard, "Lads were superb a great battling display, an important 3 points. We've let two goal leads slip in our last two home games and when it went to 2-1 mentally would have been in the back of their minds so to come through that like we did was huge for us.
"Full credit to the lads. It's a difficult place to go and they've got quality high up the pitch and a thought we dealt with them well throughout. We were also down to the bare bones yesterday so made the win even better, we are actively trying to bring in at least two players in the next 7 days."
The main photograph is by Brendan Harvey from Abbey Hulton United's game against Ellesmere Rangers.