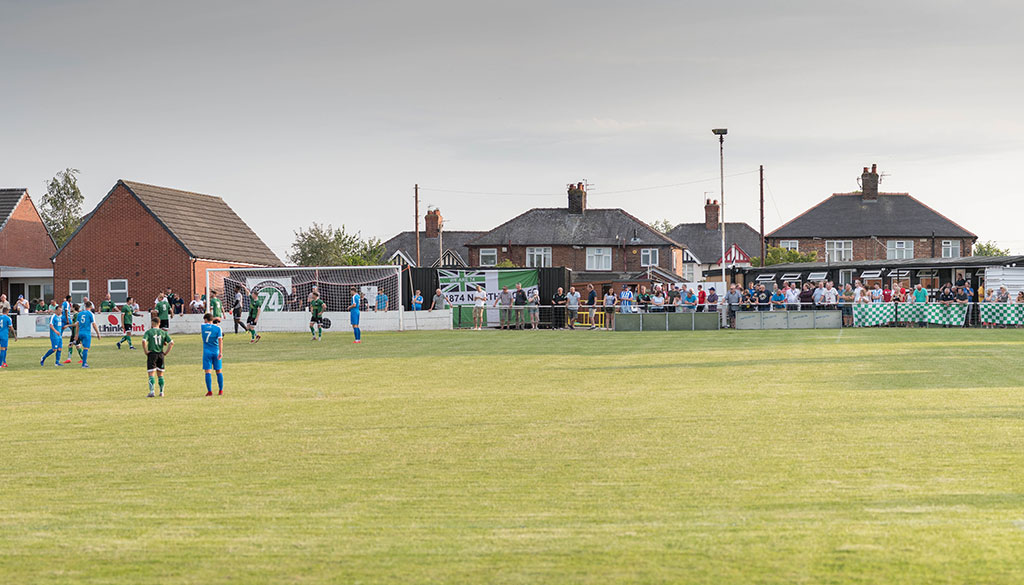 A year of consolidation for 1874
Thu 25th April 2019 | 1874 Northwich
By Ian Templeman
One year ago, 1874 Northwich joint-managers Paul Bowyer and Wayne Goodison were guiding their team through a schedule of games that was so hectic, it brought the club national coverage.
The combination of a bad winter that led to postponements, and success in cup competitions, including a semi-final appearance in the FA Vase, led to an unprecedented build up of fixtures and the squad being stretched to the limit.
In the end, 1874 played 69 league and cup games in an action packed season, quite a total at any level of football, and reflecting back on their busy schedule of twelve months ago, Paul Bowyer says that he and Wayne were happy with the way everyone coped.
"I think we were proud of everyone's efforts, and obviously it was good for the club and the publicity we got", said Paul.
"At the time it was fantastic and really good for the club that we did as well as we did, although it was disappointing we didn't get any further in the Vase.
"But it's one of these things we have got to move on from now".
After such a busy season, it was perhaps inevitable that there was a bit of a hangover at the start of this season, and it took until mid-September before 1874 recorded their first win.
But Paul insists there were a number of contributory factors that all played a part in the slow start.
"The bad start was down to a number of things. We had loads of games at the end of the season, the season was extended, and we came to pre-season really early.
"I think there was a bit of fatigue there, but also too many players were away and missed parts of the pre-season and these are all things that can happen at our level of football.
"Then we had one or two players that left pretty late in pre-season and that had an impact at the start, because a lot of sides have settled down a few weeks before the season starts, whereas we were having to find a couple of players to come in and fill some really important positions.
"We had a couple of poor results early on, but we have characters in the squad who worked hard and sorted it out and we have worked really hard to get back to where we have been.
" From Christmas time we have done well, but it was a disappointing start to the season.
"If the season had started in September we'd have been a top six side, and we believe we have the capability to be a top six side. Our aim is to be consistent and push on from here".
It has, therefore, been a year of consolidation after the pressure of last season, but this season will end with the club making history.
After they round off their league programme on Saturday at home to Runcorn Town, 1874 will then begin preparing to face City of Liverpool in the Macron Challenge Cup final the following weekend.
It's the club's first appearance in one of the League's cup finals, and Paul says everyone is looking forward to rounding off the season with a cup final.
"The most important thing is that we have had something to play for right up until the end of the season", said Paul.
"There's a lot of teams in the league that have not got much to play for, so it's great that we have got a cup final that everyone is looking forward to.
"The important thing is that we do as well as we can in the other games we have got leading up to it. That's builds up confidence and momentum
"It's a big day for the club, it's one of the biggest things that you can compete for, and we are proud we have got to the final.
"We will take a lot of supporters to the final, they will get right behind us, and you would expect City of Liverpool to have a good following as well.
"It's all about us taking our game plan, making sure we play as well as we can and hopefully come out victorious in the end".