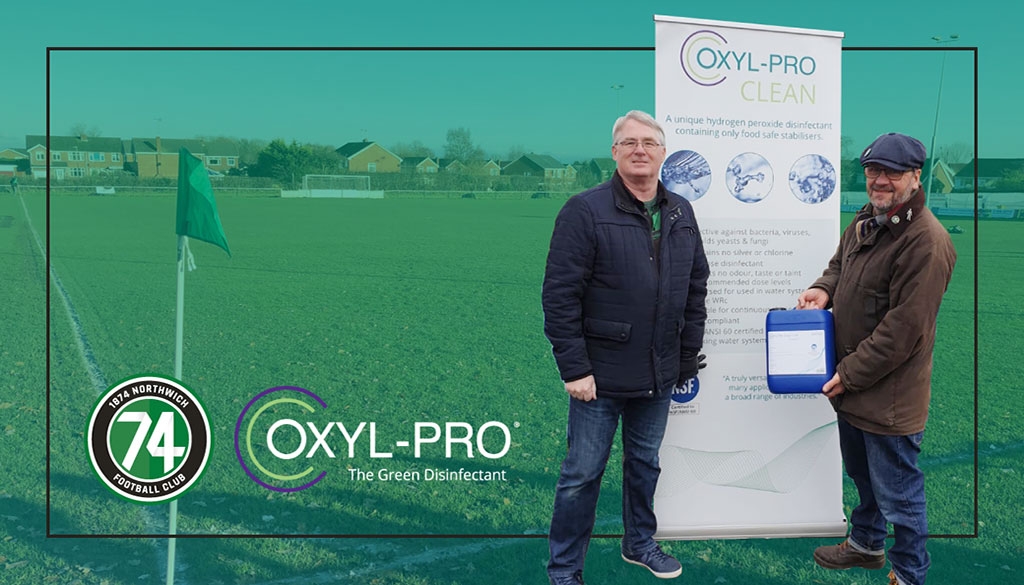 All go for OXYL-PRO at 1874 Northwich
Mon 3rd August 2020 | 1874 Northwich
By Martin Fallon
With the season drawing ever closer, 1874 Northwich have announced a brand new 2-year shirt sponsorship deal with OXYL-PRO by Chemiteq Ltd.
As a company, Chemiteq Ltd have sponsored and supported the club ever since they were formed back in 2012 and the partnership has now been taken to new levels by becoming the new shirt sponsors.
Their main product OXYL-PRO, offers a complete range of ecological disinfectants which leave no harmful residues. It is odourless, biodegradable and is proven effective against viruses and bacteria including coronavirus. It has been instrumental to the way 1874 players have returned to training over the past eight weeks and will be even more critical once friendlies are allowed to take place.
Their product ensures players can return in a safe environment and as time progresses, this is something that will be fundamental in the return of all our football communities once we have the green light to welcome supporters back. In addition to this sponsorship, Chemiteq have also offered OXYL-PRO Hand and Surface disinfectant to all clubs in our three divisions and the Cheshire League free of charge.
The deal will see closure 1874's excellent partnership with Britannia Carpets who have been First Team Shirt Sponsors since the club's inception. Britannia Carpets will continue to be involved though and will be the Away Shirt Sponsor for the coming season.
Chairman Steve Richardson said of the deal, "Chemiteq and OXYL-PRO have always supported the club right from the beginning. It's a product that is owned by supporters of the club and they will be crucial now football can return. We should also add our thanks to our friends at Britannia Carpets, they have been with us since the beginning and we are grateful for everything they have done for the club. For now, it's about how can we keep the club evolving and we believe our partnership with OXYL-PRO can do exactly that.
Director of Chemiteq Alan Riding added "When the chance of sponsoring the new 1874 home shirt came up, we jumped at the opportunity. We have sponsored the club ever since 2012, we have an advertising board and we are excited to see the logo of our main product OXYL-PRO on the shirt. Hopefully over the coming years we will continue to develop our relationship with the club further and keep us both progressing."