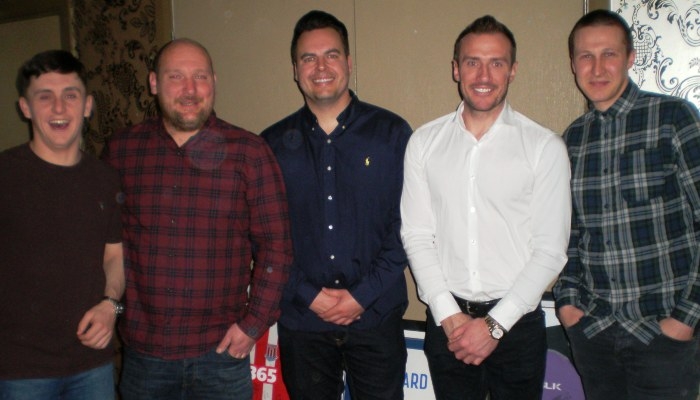 Successful Sportsman's Evening for Eccleshall
Sun 17th March 2019 | Eccleshall
By Jim Tunney
Last Saturday, Eccleshall held a Sportsman's Evening to raise funds for the club.
The guest speaker was the former Stoke City and Republic of Ireland International, Liam Lawrence along with BBC Radio Stoke and BBC Five Live broadcaster, John Acres.
Liam had a fantastic career spanning 20 years, taking in nine clubs, making 454 appearances and scoring 65 goals. Since bringing his playing career to a close, he is now making a name for himself as a commentator, pundit and personality on radio and television. He is also a columnist in the local evening paper.

In front of a large audience, Liam and John discussed his career and kept them entertained with stories about how he started, his run in with Roy Keane at Sunderland, his years with Stoke City and his international life with the Republic of Ireland among others. Following a pie and peas supper, he then took questions from the audience.

Club secretary Jim Tunney said: "It was a hugely enjoyable evening and Liam had some good stories to tell about the various clubs he had been at.
"He clearly enjoyed his years at Stoke City and with a good number of Potters fans in the audience, they enjoyed hearing about those times and such stories as the incident in the Emirates changing room after a defeat at Arsenal.
"Both Liam and John kept the stories coming and we were particularly grateful for John stepping in at short notice on the day. He was on Five Live duty at the Premier League game at Huddersfield and travelled down to Stoke immediately after the match to be there.
"Aside from being a very successful event, we managed to make a bob or two for the club as well!"

Photo shows Liam and John with Eccleshall skipper Harvey Collins and management team Kyle Adams and Craig Bould.

L to R - Harvey Collins, Craig Bould, John Acres, Liam Lawrence, Kyle Adams.