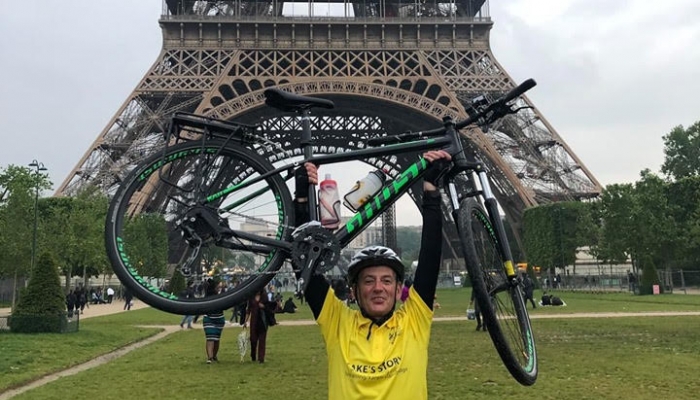 Brian's MINDful Cycle
Mon 17th June 2019 | General
By Gary Langley
Dad's Journey in memory of his son Jake raises essential funding for MIND Charity as the figure soars above £4000.....
Last month, Brian Standbridge and his friend Nik Green set out on a cycle ride from Stoke to Paris to raise funds for North Staffs MIND. The ride was in memory of Brian's son Jake, the young Eccleshall FC midfielder, who tragically took his own life in October last year and whose loss is still being felt by his family and everyone at Pershall Park.
Although not a natural cyclist himself, Brian undertook the ride to support the organisation who are working closely with Staffordshire FA and local football clubs to promote mental health awareness issues within the football community. The aim is to set up support networks and counselling for young people who may be experiencing life challenges which, in turn, cause them depression and mental health issues.
Through the ride and a Just Giving page highlighting Jake's Story, Jake's family set a target of raising £3000 for MIND in the hope that the support networks would help to prevent anyone else having to go through the pain and loss that they have experienced in losing a loved one at a young age and with so much potential for the future. In their view, if the money raised saved just one young life, it will have served its purpose.
Eccleshall secretary Jim Tunney said: "Brian kept me updated with photographs of various stopping points on his journey and both himself and Nik cycled 400 miles in five days with one night on the ferry. After three hours sleep, they had a 5am start from Dieppe to complete the final leg of the journey. After 117 miles in the saddle, they arrived in Paris in the early evening and he achieved his objective of standing in front of the Eiffel Tower in a yellow jersey with his bike. The great news is that they smashed their fundraising target and the current Just Giving page total, with contributions still going in, stands at £4,315".
"I feel sure that the family would still welcome any contributions to boost this figure even further in support of such a worthwhile cause and donations can be made on the link below"
CLICK HERE for Just Giving Link
Photo shows Brian in front of the Eiffel Tower