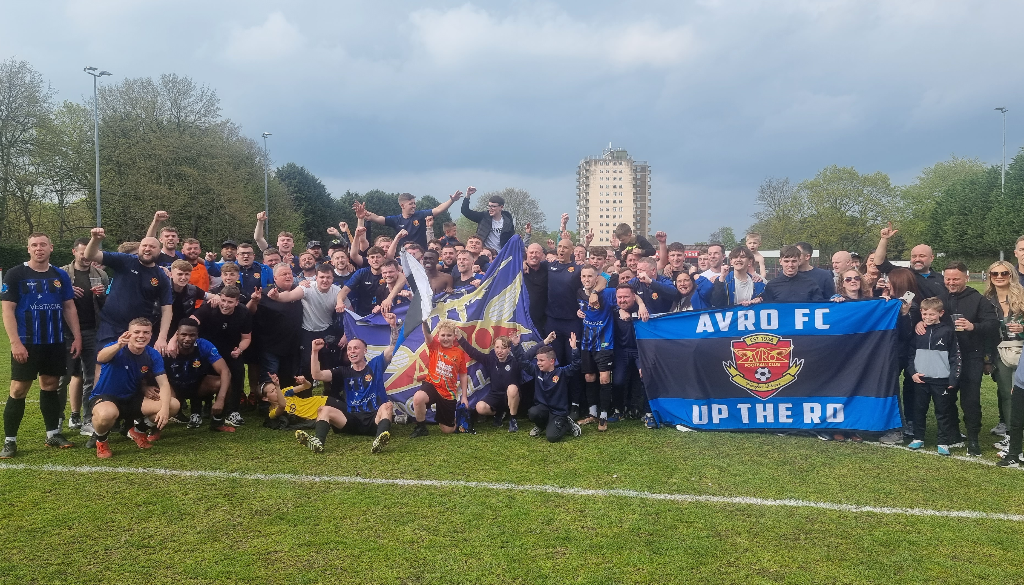 Avro Chairman reflective but optimistic ahead of their next adventure
Wed 3rd May 2023 | Avro
By Gary Langley
Avro FC clinched a promotion place to Step 4 via an inter-step play off win over Lincoln United last weekend and those celebrations are just about starting to ease. However, we caught up with Avro Chairman, Robert Fuller this week to see how his weekend went, what the plans are for going forwards and how he will look back in Avro's time in the NWCFL.
We started off by asking him how he felt about that play-off, was he nervous or was he confident?
"Honestly, I would say that my wife would say I was a nervous wreck but I felt ok. I just had a feeling that it was our time, I looked at the way things had gone for us in the run-in and how other teams results had gone and I felt that we were going into the game with the right mindset and in form. I was still wary and respectful of the occasion but I new we had a good chance."
…then the final whistle goes? What were your overriding thoughts at this point?
"Relief, then my emotions changed quickly to joy and I probably shed a tear as well but then the realisation quickly came as to what we as a club had achieved. It was at this point that I took myself aside for five minutes or so just to take in the events of what was happening on the pitch. This was Avro Football Club winning the Inter-Step play off and heading into The Northern Premier League! I then went straight out there and joined in the celebrations."
When you look back over your 4 seasons in the NWCFL, was getting to Step 4 and The NPL part of the plan at this stage?
"Anything was possible although this was perhaps at the higher stages of our wider planning. We came out of the Manchester League strong as a club on and off the park, and as we developed and found our feet in the NWCFL and did more than stabilise, we realised that we could build on these strengths. Obviously, the facilities have been developing and when we got out of Division One we had the confidence to think we could challenge again. At the end of 2021-22 we finished 6th and were doing well but our aims at the start of this season were to do better than last year, build on what we had, and if we could get a bit of consistency in towards the end of the season we could see what we could do."
"We have a three-year rolling plan but at the start of this season we had re-evaluated what we could aim for and we will continue to always look to stabilise and push on. We have a great team behind the scenes and on the pitch, you look at Alex Frost, Manager, he is always looking to evolve the team, Charlie (O'Brien) who does a lot of work with our partners and the day to day ops at the club, Mark (Hutton, Secretary) and many more. Many of our former players and managers are still around the club as supporters and as a club we are one."
That said, have you started planning ahead at this point?
"Not really, although we always have an eye on the future but first things first, we are all going to have a week off. Frosty was at a Stag do over the weekend and he is off to the wedding soon, so we will recharge the batteries and start looking to sit down next week to lay down the plans for next season."
What problems are you thinking about, at the moment, good and bad as you prepare for that next step?
"We will hopefully be ready, as far as im aware we are ok for the ground grading but I believe that the criteria for the grade we need maybe changing a bit shortly but either way, we will be looking to get everything in order. We faced similar challenges when we came out of the Manchester League and prepared well and we did the same when we went up to the Premier Division. We will see how we get on, but there's a lot of support around football and we will be ready."
What are your hopes for your time in the NPL? Is it a case of hang on in there or are you looking to 'go again'?
"We will have a go for it, 100%! Rightly or wrongly we will always plan to try and be in the mix at the top end of things. There's no point in planning on going up to hang on to the status otherwise there is no point, you should always look to have a go, but we are under no illusions of the strength of the NPL but we will go into it on merit."
As the dust starts to settle and the realisation of the promotion sets in, are you able to say you enjoyed your time in the NWCFL, also what advice would you give clubs looking at Avro's journey who perhaps haven't look to join the National League system yet?
"We've loved every minute of it and wouldn't change anything? We were keen to get in for a reason, it's a strong league with experienced people in and around it and that's why it's considered one of the best run leagues. It has been great for us and we have in-turn played our part in it and learned a lot from being an NWCFL club."
"What I would say to clubs who are looking at what we have done is to push on and don't think twice about it. There is so much support available from the league and the clubs in the Counties. Get your club behind the plan and get united for the challenge ahead. Junior clubs up to reserves and the firsts need to buy-into the idea but once you get the momentum up you can really develop. Take advantage of that support around you, get a plan together and come in ready."
A big thank you to Rob for his time and we look forward to seeing Avro represented at our AGM in June and then onwards and upwards to Step 4.