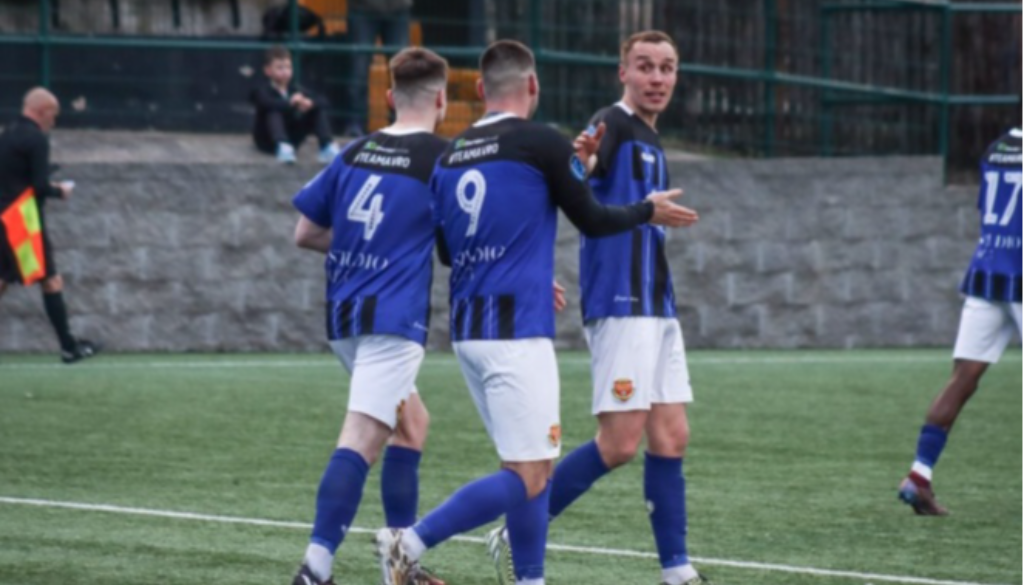 Avro, the Third Horse in a Race of Two - feature article
Thu 16th February 2023 | Avro
By Jay Cooper
A few weeks ago, on this very website, I published an article about the respective seasons that Vauxhall Motors and Wythenshawe Town had been having in the NWCFL Premier Division ahead of their first-versus-second clash in mid-January. Vauxhall Motors won that match 3-0, and Wythenshawe have failed to win from 4 fixtures in the league since that game.
Had you not kept much of an eye on the league table itself and had only read my article, you might believe, after reading that last paragraph, that the Motormen are now essentially running unopposed for top spot. That is a lie. Another challenger is very much in the fray, and their name is Avro FC.
Avro actually started the 2022/23 season about as hot as the sun's stolen car and, in the early weeks and months, them being top of the pile was not a strange sight. From their first 8 games in all competitions, they went unbeaten and didn't concede a single goal. Their defensive wall finally cracked slightly in their only FA Vase match from this season, which they drew 2-2 AET and lost 4-2 on penalties. Still, they kept up their league unbeaten run, as well as their league clean sheet run, until falling 2-0 to Congleton Town on September 7th.
Speaking to manager Alex Frost, he concluded about his side that "you don't need to be an expert analyst to see how we play, and what we are trying to achieve on that pitch, and that is to be hard to beat, first and foremost. That's our ethos, and our philosophy. We know if we do that, we've got a platform to win games." Six games without conceding a goal in the league at the start of the season will do that for you.
However, their consistency wouldn't last, and that seems to have been why they have spent a lot of weekends in 3rd as opposed to 1st. A stretch of games between December 28th and February 1st where they only managed 1 win from 7 in all competitions, for example, is the kind of run that sees your title ambitions falter a little.
Being involved in this kind of peaks-and-troughs title race can lead to some managers cracking, but don't expect an 'I would love it' moment from Frost anytime soon. "We're not unrealistic," he said. "We know we've been at the top of the league and we're happy to be up there, but there's no real pressure for us to be there, and we've not pressured any of the players for it either. Our goal this season was to outperform last season, and we just want to take it one game at a time and win as many as we can".
With the talent they have at their disposal, it's hard not to see them doing exactly what the manager wants and picking up as many wins as possible. Goalkeeper Grant Shenton, who was the man responsible for all those shutouts at the start of the campaign, was recently the recipient of the NWCFL Goalkeeper of the Month award for the Premier Division in November. Shenton also won the award in September, and kept busy during the penultimate month of 2022 by keeping 4 clean sheets in all competitions and making vital saves in close matches against the likes of Irlam and Vauxhall Motors.
It's not just their goalkeeper and back line that are so eye-catching in their games. Avro are stuffed with talent going forwards, too, and are doing their best to make the most of it. In the manager's own words, "we've been building the goalscoring side of the team throughout the season. I think the additions of Louis (Potts), and Max McCarthy from FC United of Manchester have allowed us to do that, and I genuinely don't think you've seen the best of us yet."
After that aforementioned baron run throughout January, Avro got back to winning ways at the beginning of February, and their matches since read similar to their ones at the start of the season – a 3-0 win over Burscough; a 1-0 win away at Padiham; and a 3-0 win away at Kendal Town. Clean sheets and statement wins as far as the eye can see, and perhaps it couldn't have been more perfectly timed.
Fellow title chasers Vauxhall Motors had played half the league games that Avro had going into last weekend, and had suffered defeat in both, against Prestwich Heys and Northwich Victoria. As for Wythenshawe Town – they've played 4 league games since their defeat to the Motormen, and have drawn two and lost two of those games, to the point where, at the time of writing, they've slipped behind Northwich Victoria into 4th.
Back at the Vestacare Stadium, Avro's upturn in fortunes would lead to playing host to Squires Gate in their final match before Valentine's Day as the league leaders once again. True to form, they got right off the blocks in this one. Both Jamie Rother and Max McCarthy tried their luck from range, only to be denied by Pascal Jungo and the bar respectively, before the breakthrough on 15 minutes when a free kick floated in from deep on the left flank found Louis Potts in behind the defence for a calm volley home.
The first half ended on the opposite note to how it started for Avro, with a concussion seeing Kane Wallwork substituted for Max Davidson, before Davidson himself was helped off with a serious limp 10 minutes later, to be replaced by Jack Morrow.
"Davidson looks like he may have damaged his ankle ligament", said Frost, post-match. "How severe, I don't know. I think Kane, as long as he gets the all clear after we get him checked out, ought to be back next weekend, whereas Max, on first inspection, probably looks like he might be out for a longer period of time." Of course, we wish both players a speedy recovery.
In the second half, Avro returned to their regularly scheduled programming, with an early second for Louis Potts coming from the second phase of a corner. Potts was well found by a Connor Berry ball across the box for a smart finish. Potts would complete his hat-trick from another set-piece after just over an hour, latching onto an in-swinging free kick from captain Jake Cottrell to power the header past Jungo into the top corner.
There was an ugly moment about 20 minutes from the end as Max McCarthy and Squires Gate's Daniel Grey chased a loose ball down the left. After a coming together, both men tumbled to the floor with handfuls of one another's shirts, and with one man eventually ending up on top of the other, it might not have looked out of place in a UFC Octagon, despite the fact that no blows were being thrown. The referee, Mr Taylor Metcalf, cautioned both men for the infraction.
Avro put the final nail in Gate's coffin in this match, with Potts turning provider for substitute Bradley Sullivan. An inch-perfect delivery from Potts from the right corner of the box evaded the Gate defenders, and Sullivan timed his run brilliantly to head home and seal a 4-0 victory. Another clean sheet for Grant Shenton as well.
After the game, Frost was humble in victory. "I thought we were excellent, we had a slightly different game plan after the last time we played Gate. I think they're very good, very underrated, I rate their manager (Luke Evans) very highly, I think he's very tactically astute, so we knew that we needed to be tactically superb and spot-on today, and I thought the lads were."
As well as praise for his opponents, he was also full of praise for his own star man in hat-trick hero Louis Potts. "He's no stranger to the club, and he and I have a very close relationship. He's a fantastic player and he has the ability to play at least two league higher. He was superb today, not just because of the goals, but also because of his defensive duties. When the midfielders were out of position, he dropped in – we've been asking him to do more off the ball, he will admit that's a weakness that he needs to work on, but today he was absolutely fantastic."
Another commanding victory in the bag for Avro, then. So, what next? Well, like most managers do when they have a team at the top of the league with 2 months remaining, Frost insists that his side are going to "take it one game at a time, keep winning, and if we're there at the end, then brilliant. All the club asked is that we should be in the fight towards the end of the season." However, it was hard to disagree when he said "you'd be a liar if you said you didn't dream about it at the start of the season."
Avro maintain their place at the top of the table for now, but Vauxhall Motors, ever on the pulse, are a mere point behind, with two extra games to get those points from. In addition, it's certainly not worth writing of Wythenshawe Town yet, or even Northwich Victoria, who are currently in the bronze medal position. It's going to be some race for the finish line this season, and, with 10 games to go, you can be sure Avro are going to run it.
Image Credit: avrofc.co.uk, Gallery - Avro 4-0 Squires Gate