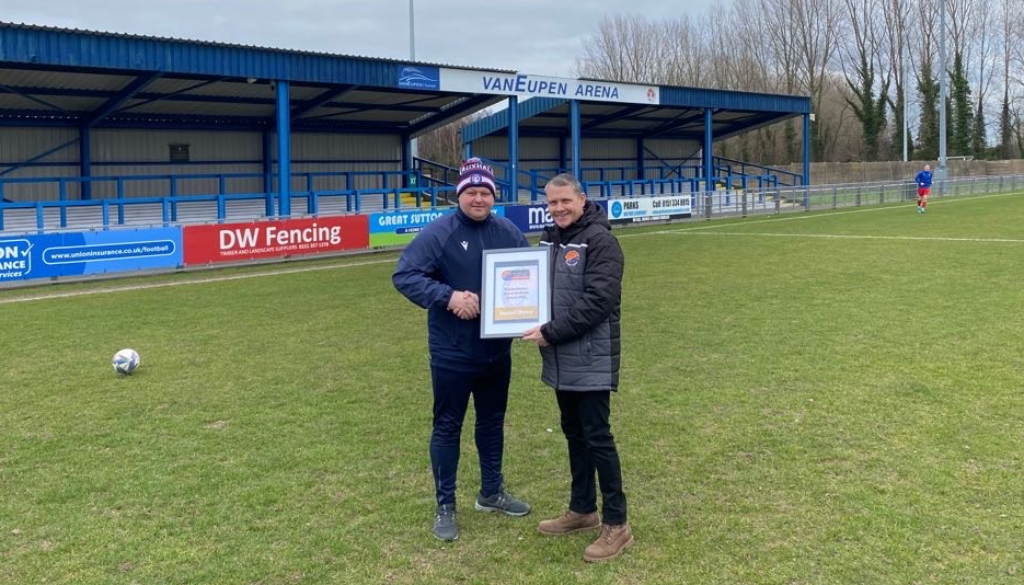 Vauxhall Motors Premier Division Club of the Month
Fri 3rd March 2023 | Vauxhall Motors
By Martin Fallon
Vauxhall Motors have been presented with their Club of the Month award for January 2023.
League Chairman Paul Lawler went along to one of their recent home games, and before kick off he presented the award to Manager Mick McGraa on behalf of the club.
It was a very close run thing in the Premier Division in January with Padiham and Litherland REMYCA both having unbeaten runs in the month. However just pipping them to win the award for the month was Vauxhall Motors.
They had a tremendous month winning FOUR successive away games in the month at Alsager Town, Wythenshawe Town, FC Isle of Man and Ashton Athletic, scoring an impressive 13 goals in the process. The final game saw them face National League side Alltrincham in the Cheshire Senior Cup, drawing 1-1 with their higher level opponents before losing on penalties.
That giving them 17 points from their 5 games for a 3.40 average.
| | | |
| --- | --- | --- |
| 03/01/2023 | Alsager Town 1-4 Vauxhall Mtrs | Away win against a team from a lower division: 3 points |
| 17/01/2023 | Wythenshawe Town 0-3 Vauxhall Mtrs | Away win against a team from the same division: 4 points |
| 21/01/2023 | FC Isle of Man 0-3 Vauxhall Mtrs | Away win against a team from the same division: 4 points |
| 28/01/2023 | Ashton Athletic 2-3 Vauxhall Mtrs | Away win against a team from the same division: 4 points |
| 31/01/2023 | Vauxhall Mtrs 1-1 Altrincham | Home draw against a team from a higher division: 2 points |
Total Games played in the Month: 5
Total Points won in the Month: 17
Average: 3.4