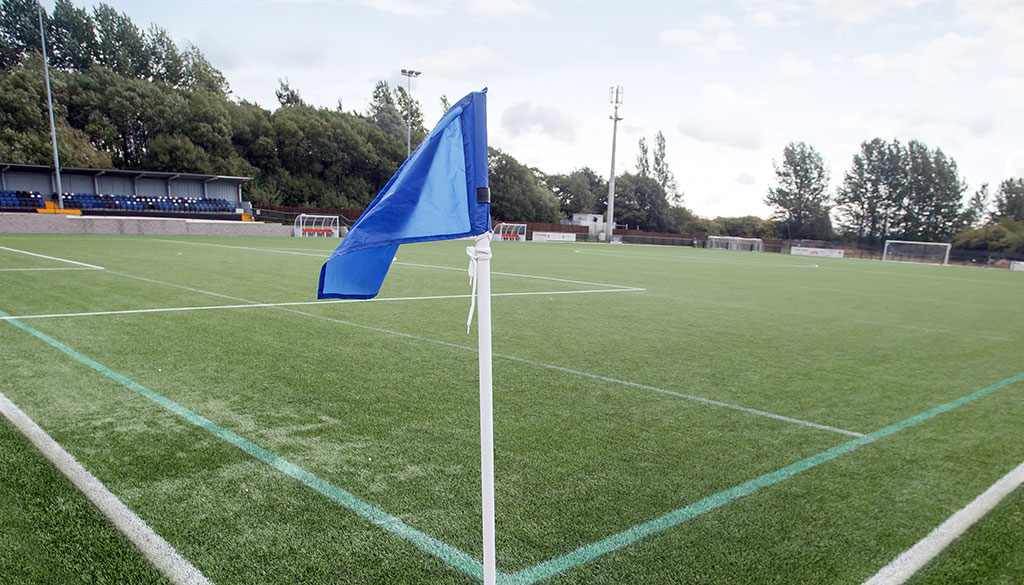 Ambitions high at Avro
Sun 30th June 2019 | Avro
By Craig Kendall
Avro's stay in the North West Counties First Division only lasted one season, as Lee O'Brien and James Hampson led their side to promotion at the first time of asking - a brilliant achievement for any club!
Having been at the club for many years, Hampson is enjoying his time at the club who have seen a meteoric rise of late since the pair took over two years ago.
"Years and years!", Hampson explained he'd been with Avro with a while. "When I was at Oldham – when I was 16/17 – it didn't work out there and my first club opportunity was Avro. Someone I knew for a very long time, Arne, who was the coach at Oldham and it was like a family thing so I've known about Avro since I was about 16/17. I'm 34 now so it's been quite a long time.
"In my role of coach, football-wise it's been going on a while. It's in my blood, unfortunately! Lee [O'Brien] and I were talking about this the other day. It was our two-year anniversary since we met and decided to take on the role, the project. Rob, who's the Chairman, had a vision when we were getting kicked off our old ground at the Lancaster club at the bottom of Broadway and it was exciting. It's been two years since we've been doing it. I still think I can play football but it's apparent by the quality of players that we've got there that we've got the right lads in to hopefully be successful."
"So two years [we've been at the club] but it is completely different. You finish football, you kick your socks off normally and go for a beer. Here they kick their socks off and you're putting them away, you're planning for the next game and you do training, how did we play and the next opposition... There's a lot more thought time going into it than people realise."
Having won the Manchester Premier Division in 2018, then to gain promotion last season [finishing second but gaining promotion with points-per-game], Avro are certainly a team to look out for, "The first from the Manchester League was brilliant. You always want to start off at a club and be successful and we were fortunate with that. Last year, the promotion was the aim but it was bittersweet. We thought we had one hand on the Cup playing against Sandbach, who had a crazy twenty minutes or so and we lost, which can happen in football at any time. Then we had it in our grasp against Longridge and again we came up short.
"Because there was only one [guarenteed promotion spot last season] – the Champions – going up, as opposed to the play-offs like in previous years, it was something that we did have one of our eyes on. We gauged Prestwich Heys, who were successful to get the play-offs the other year, as what we should actually try and achieve with the points per game and we were always keeping one eye on that.
"When it was so close, when we drew against Chadderton and they drew against Garstang and we won on the Wednesday night then it was down to that final game, the points per game went out of it totally and, being maybe a little bit naïve, we went out to win the game. Possibly if we've have drawn we would have been higher up the points per game and we wouldn't have had to worry for the League's ratification or anything like that.
"It was a bit of a strange one last year but the points per game certainly did help us out. Like you said, we got a promotion and we're mixing it with the big boys at the Counties next year, which is another exciting prospect.
Last season was the first chance for the club to compete in the coveted Buildbase FA Vase, a huge achievement in Hampson's eyes, "At our level I think we must have been the only team competing in the second round so actually it was a big achievement for the club. We played West Auckland and, for someone as well-known in the game and to go out of the Cup against little old Avro, it was a big achievement.
"In the League we play every game wanting to win and, if we're playing snooker or a game of pool, in any game we're really competitive. In the FA Vase we go in to win it. If we're in the FA Cup we go in to win it, as mad as it might sound but it's one of those where we try to win every game. We'll try to go as far as we can in each competition and we try to win everything we're involved in."
With promotion also comes a place in the Emirates FA Cup, a dream for all footballers, "Yes, we had to finish in the top four or five to qualify for that. I've been quite fortunate to play in the FA Cup and some other big games. Lee and I have played in it in the past and know what it's all about but there are some lads at the club who haven't played in the FA Cup or anything like that. For us, as little old Avro, it's another big achievement, another first on the list and something that myself and Lee have brought to the club. The chairman's chuffed so we just hope we get some other well-known team, we get a big gate and put Avro on the map.
"There's a big thing at the moment of it not being a prestigious competition. You used to watch it, with the songs, with the suits and I remember sitting there. It was on telly for seven or eight hours of the day and it's lost its charm a little bit. For the smaller clubs certainly, it still is a very big deal and it's something that we'll always be excited for."
And looking ahead to their first term at Step 5, "You've seen a well-established club like Runcorn have just signed Craig Cairns so they're setting out their stall early. Rylands and Barnoldswick, they're making their statement with signings; some other clubs also so it's going to be very competitive and there are three there. If we aim for first and get third, we're happy but we're not behind the door with the signings that we're making. We've been very quiet about it at the moment. We're quite confident bubbling away with the players that we've got and we're going to give it a good go.
"There's no point in going in for mid-table and getting into a relegation battle. We want to win everything that we're involved in. It will be a huge, huge task and we're under no delusions about that. We've got to go and try to get that promotion again and I think all the lads, the management and the board will be wanting the same thing."
A big thank you to Ellie Dalglish for transcribing the interview.