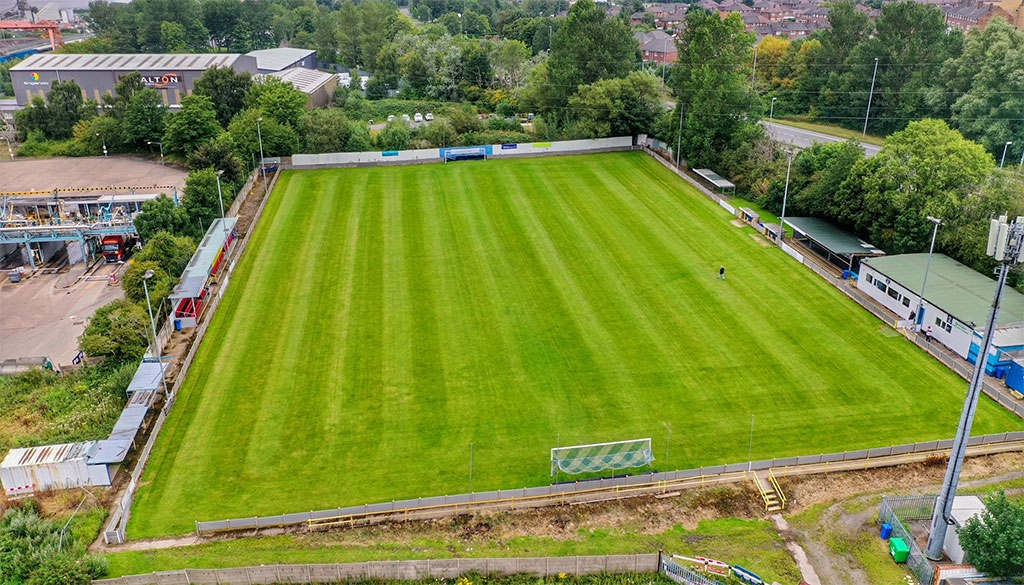 NWCFL First Division North 2022/23 - Reviewed
Fri 12th May 2023 | Bits & Pieces
By Jay Cooper
This is the second of three articles covering the major talking points surrounding the all the divisions in the NWCFL throughout 2022/23. This piece will focus on the First Division North throughout the entirety of the season.
Last time out, the team at the top of the tree in the First Division North enjoyed a fantastic season, virtually unchallenged for the majority of the campaign. But who would fill the shoes of Bury AFC for the 2022/23 season? Early picks might've included Runcorn Town, who joined the league after only just finishing bottom of the premier Division in 2021/22, or perhaps one of last season's play-off hopefuls, such as Holker Old Boys, AFC Blackpool or Nelson. As well as Runcorn, there were 2 new faces joining the division from the tiers below, and it would be a NWCFL debut season for both Euxton Villa and FC St. Helens.
One team that came so close to making the play-offs last season, missing out on goal difference in the end, was Stephen Palfrey's Pilkington. The WA10 side weren't about to let history repeat itself, and started the campaign like a house on fire, going on an undefeated streak in the league that lasted from the season's start at the end of July, all the way to the first week in November, when they finally fell at home in a match against fellow pacesetters, Euxton Villa. The Villains had made themselves right at home in the First Division North, and by the time they visited Pilks' Ruskin Sports Village, they had only lost 2 league games from their first 10. It was a top of the table clash that finished 1-0 to the visitors. Other teams in the promotion hunt at this time included Chadderton and Daisy Hill.
Towards the foot of the division, Runcorn Town got off to a rocky start, to put it mildly. The first few weeks of the season saw them, South Liverpool, Ashton Town, Cleator Moor Celtic and the newly rechristened Darwen FC trading places with one another week by week at the bottom of the table. In fact, it would take until October for all 5 of those sides to register their first win in all competitions – Ashton Town were the last to do so, beating Runcorn Town 2-0 in the Edward Case Cup.
One story away from the pitch that made itself apparent in the early months of the season in the NWCFL First Division North surrounded mid-table Bacup Borough. In September, their manager, Brent Peters, passed the incredible milestone of being manager at the club for an unfathomable 25 years running. It's the end of the season now, and Brent is still there. If that is the case come September 2024, he will have been the Borough gaffer for longer than Sir Alex Ferguson was in the dugout at Manchester United, which would be incredible.
As we made our way closer to Christmas, the First Division North was no different to the rest of the NWCFL when it came to necessary match postponements. As mentioned in yesterday's article about the NWCFL Premier Division, the weekend of December 10th and 11th bore witness to a mere 2 games of NWCFL football across all 3 divisions due to frozen pitches. One of these matches did come from the First Division North, as Ilkley Town, who'd found a spot for themselves in the play-off picture by this time, defeated last season's play-off hopefuls AFC Blackpool 2-1. Pilkington were still very much in the driver's seat in the title race, but Euxton Villa and Chadderton were in a game of one-upmanship to see who got to be their closest challengers going into the new year. It was a battle that Chaddy would ultimately win.
Going into 2023, the relegation picture was becoming clearer and clearer. Darwen FC and South Liverpool had steadied their ships after a slow start to the season and were comfortably mid-table. Cleator Moor Celtic were the unfortunate side at the foot of the league, with Towns Runcorn and Ashton for company, and an interchanging cast of targets for those three teams to try and catch, including Garstang and Daisy Hill, who both cooled off a little too much after a hot start, and Bacup Borough, by the sheer amount of games that they had postponed over a rough winter.
In the middle of the table were quite a few of last seasons play-off place occupants. It was Golcar United who won the play-offs in 2021/22 at the expense of Holker OB, AFC Blackpool and Nelson. Those 3 sides were being kept company at the halfway point by the likes of Steeton, who's top scorer Andrew Briggs was proving to be unstoppable, and later Atherton LR, who would have a dream month between February and March, winning 5 straight.
It was in March that two teams were emerging as the only real title contenders. We saw a very poor run of form for Euxton Villa in the first month of spring, where they went on a run of 1 win in 6. They would prove to have enough of a points cushion on 6th place and would secure a play-off spot, but it was a real drop for the side that were Pilkington's closest challengers for so long. This allowed for Oldham-based Chadderton to emerge as the true banana skin for the Pilks to be aware of. Before April, the team from the Falcon Fire Stadium (a stadium name I will never get bored of making reference to) had been on an unbelievable unbeaten run in the league that stretched all the way back to a 3-1 defeat to AFC Blackpool in September 2022. This great purple patch would come to an end on April Fools' Day when they lost 1-0 to Nelson, but that 22 game run of no losses put Chaddy right up there with Pilkington.
Speaking of the would-be champions, they still very much had their destiny in their own hands, and it would come down to a mid-April clash away at FC St. Helens, who were sitting pretty in the play-off places, where Palfrey and his players would have their first chance to confirm themselves as champions. However, they came up short, losing to FC and giving Chadderton a lifeline. It was a lifeline that they pounced upon, too, as they first beat Euxton Villa and then Bacup Borough in a rearranged clash after the final day of the regular season to take first place by a single point, leaving Pilkington with one objective from their own rearranged match with Bacup 2 days later – win, at all costs. They did just that, smashing Borough 4-0 and finally officially taking the crown on April 19th.
Down at the bottom, Cleator Moor Celtic were left with very little to fight for by the final month, and their relegation was confirmed on April 4th when they lost at home to Nelson, who were themselves closer to the drop than they might've hoped to be at this time. The other teams around the relegation zone had mountains that weren't quite as high to climb, and Runcorn Town did their level best to avoid a second straight relegation by winning 3 of their last 4 games, but it would prove to be too little too late for Karl Brown's side, as they would end the campaign 7 points off the pace. Ashton Town, Garstang and Daisy Hill would be the 3 teams fighting for the 2 remaining safety spaces in the league by the final day. On the day itself, it was Garstang who appeared to be the team that would join Runcorn and Celtic, but both they and Ashton Town had to play rescheduled games against Bacup Borough (I told you they had more rearranged games than they knew what to do with) after the final day. Ashton lost theirs 4-1, setting the stage for Garstang to win their game 3 days later 2-1, complete their great escape and condemn Ashton to the drop zone, and the hope for a reprieve.
So why did Bacup have so many postponed and rearranged games? Well, aside from the frozen pitch postponements that affected the entire NWCFL throughout December, Bacup were also seemingly the final boss of the NWCFL when it came to cup competitions this season. Brent Peters' side made it to the Macron Cup final, as mentioned in yesterday's Prem review article, but were beaten on penalties by Congleton Town. However, they would find better fortune in the Edward Case Cup, where they again made the final and faced off against First Division South side Ellesmere Rangers. On the day itself, goals from Michael Gervin and a Toby Wright penalty, and a clean sheet for 'keeper Mason Walker ensured that Borough would finish the season with some well-deserved silverware.
There was one more thing to decide after all the rearranged games were finally played, and that was the play-offs – one of English football's greatest creations. Second placed Chadderton squared off against fifth placed Euxton Villa, and third placed FC St Helens would go toe to toe with fourth placed Ilkley Town in the two semi-finals. It would be Chadderton, who'd pushed Pilkington so close, that would advance to the final from their home clash with Villa after a tense 1-1 draw preceded a 9-8 shootout win, and FC St Helens, who, as a reminder, were in their debut NWCFL season, also progressed on penalties, 3-2 in the shootout after Ilkley took them to their limit in a 2-2 draw. In the final itself, right on theme, the game finished in a draw after 90 minutes, 1-1, and so a third and final penalty shootout would be needed to decide who joined Pilkington in promotion. It would be Chadderton in the end, who won 6-5, which is probably fair given that they finished a good 14 points ahead of the other sides in the play-offs, but FC were left with absolutely nothing to be ashamed of.
It has been a fantastic season in the NWCFL First Division North. Last time out, it was all about having the league back for a full season after the pandemic that shall not be named finally stopped getting in the way, and this time, the action on the pitch has been incredible. There's been goals galore, a memorable title race and relegation fight that went right to the wire, and 18 teams leaving everything out on the pitch. Congratulations to Pilkington, and to Chadderton; commiserations to Ashton Town, Runcorn Town and Cleator Moor Celtic; and thank you to everyone in between for such a great season.