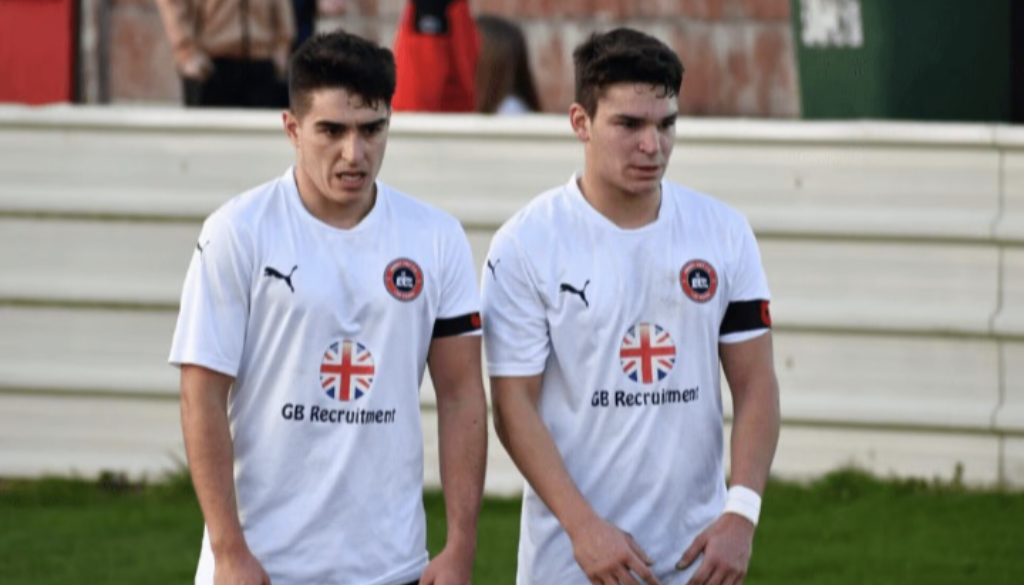 Argentine Alverez's and Vase Victories for Abbey Hey - feature article
Wed 23rd November 2022 | Abbey Hey
By Jay Cooper
Last season was one to remember for Abbey Hey fans. In the NWCFL First Division South, they were one of only 5 teams to break the 80-point barrier, doubly impressive given that 6th place only managed 62 points, and notched over 100 goals as they marched into the play-offs in 4th. They were unfortunately stopped in their tracks by New Mills, who would go on to lose out on promotion to FC Isle of Man.
In addition to this, they also registered an impressive run in the FA Vase, being one of only 2 teams from the entire NWCFL to make it to the 5th round proper, the other being Prem side Wythenshawe Town. In that run, they overcame Ashton Athletic, Hall Road Rangers, Parkgate, Carlisle City, Bury AFC and AFC Liverpool before falling to eventual semi-finalists, Loughborough Students.
Abbey Hey Chairman, Jason Dunford said of this run that, "we had a strong group of players that we'd built through the COVID lockdown that started working with back in 2018. Unfortunately, we couldn't get over the line - Loughborough Students were the better side on the day. What it did do was give us a fantastic identity and reconnected with the local community.
"I think the power of the run last season and where we got to was based on some fundamentals - they're a close group of mates who've played together for years, and the majority live within 5 miles of the club. It's that togetherness that we have as a group that got us where we did and broke the record".
Jason Dunford came to the club for the 2018/19 season, as did manager Terry Hincks. He was in agreement with his Chairman about the Vase success, stating that, "it is very important. For any non-league football club, it's an opportunity to play at the national stadium. We did really well last year, and we were brilliant last weekend against a strong, physical side. So, we're looking forward to the next round."
That was last season - so, how about this season? Well, their league position isn't quite as glamourous now as it was at the end of the last campaign. They currently sit 10th in the table and are the only team in the top half with a negative goal difference, helped along by an early season mauling at the hands of Stockport Town.
This could be chalked up to the fact that Abbey saw a few more departures than they may have liked in the summer, as Dunford pointed out. "We'd lost about 15 players in the summer - that's a whole squad." Not that he and his staff are looking at this entirely negatively. He went on to say that, "when you lose that amount of people, you're going to get a brand-new group, and you're going to learn about new individuals. We didn't have to fit any pieces into a jigsaw - we had a blank canvas. So far, the group that we're putting together week by week, is a really, really exciting one."
In addition to this, they do have one thing this season that they didn't last season – or two things, rather. Two brothers. I'm sure you, as the reader and presumably a football fan, are aware of Manchester City's Argentinian starlet, Julian Alvarez. What is less commonly reported is that he has two brothers, Rafael and Augustin, who are also footballers, and both are currently plying their trade at the Abbey Stadium.
Speaking to Terry Hincks, he said of the brothers that, "they're two great lads, the whole family is fantastic. They've integrated really well. It's difficult for them, because Rafael speaks little English and Augustin speaks no English, but, football-wise, they're tuned into it. Fortunately, one of my coaches is Portuguese, he can speak a bit of Spanish so he can interpret bits and pieces. They've been brilliant since they came in, they train hard and they're two quality players."
After the aforementioned success Abbey Hey had in the FA Vase, defeating Thackley 3-0, up next would be playing host to struggling Stafford Town in the league - a game I had the good fortune to attend.
The omens were bad from the off for the visitors, as a lack of their own kit forced them to don the luminous yellow strip that their hosts had played their away games in last season. Any early worries were confounded by the first of the Alvarez brothers getting on the scoresheet. Augustin calmly tapped in from 12 yards or so following a low cross from Luke Jackson.
His brother wouldn't be far behind – Rafael netted Abbey's second of the evening after some heavy lifting and persistence from Daryl Mason. Mason was crucial to Abbey's early dominance, and he made it 3 immediately after the 2nd. He pounced on some lackadaisical Stafford defending to break through, before rounding Joe Williams in goal to score.
Abbey were the better team in the first half but lost their concentration for a fleeting moment in additional time. After failing to conclusively clear a corner, a Nathan Brayford volley took a deflection or three before squeezing over the line. 3-1 at the break would become 3-2 on the hour mark when a Stafford penalty was awarded for a handball against Joel Bembo-Leta. Substitute Karen Danilian made no mistake from the spot.
Their good work was undone by a few moments of anger, however, as the second half progressed. In a 5-minute stretch, both Stafford's coach Jason Scott, and one of the co-managers, Dom Heath, were shown straight red cards by the referee, Mr. Tom Fox, for dissent.
In the end, the hosts settled things as the game crept into added time at the end of 90 minutes, when a ball over the top down the left wing was latched onto by Mason, and he covered quite some ground before unleashing into the near top corner.
Post-match, Hincks again offered his thoughts on what he'd seen and what was next to come for his side. "We wanted to get them on the back foot straight away, which we did, but the problem with having that much joy so quickly is that you stop doing the right things. That's why they came back into it and that's why it was a struggle in the second 45. We never quite got that rhythm back.
"To be honest, our goals are the same every year - we want to get out of this league and get promoted. This group we have now are getting stronger and stronger, they're hungry, they've got a lot of desire. We've got a long way to go, but it's still the same aim. We want to get promoted, and we'll see where we go."
For the majority of the first half of the 2021/22 season, Abbey Hey were one of the top two sides in the league alongside eventual winners West Didsbury and Chorlton. As mentioned, this season hasn't had quite the same fiery start to it, but it's always worth remembering just how competitive this league can be, and just how long there is left of the season. They may be 10th as things stands, but it's easy to miss that they're still only 4 points away from the play-offs. Sleep on Abbey Hey at your own risk.
Image credit: Sam Lee, The Athletic, Nov. 17th, 2022