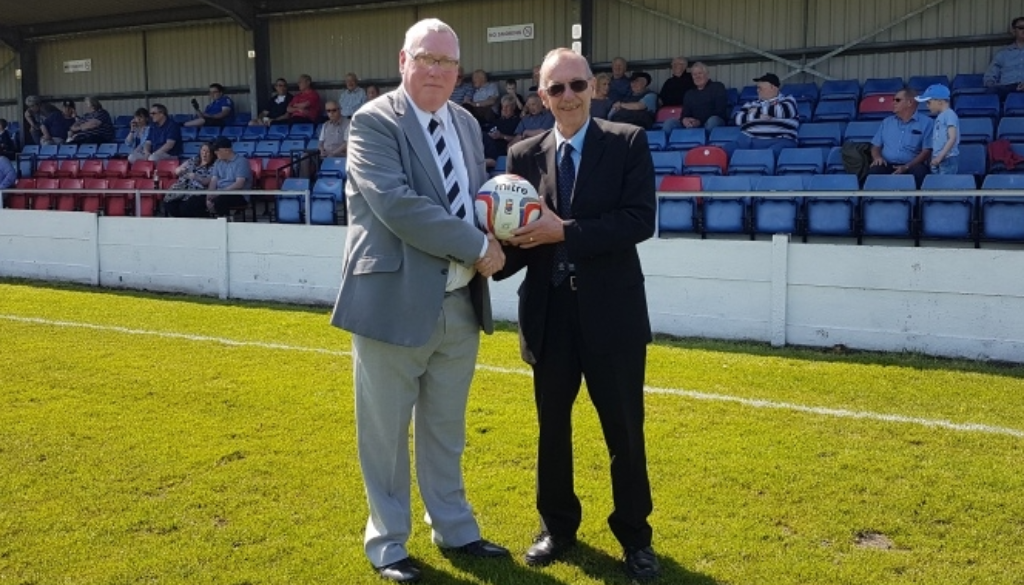 Bears Appoint New Chairman
Tue 28th June 2022 | Congleton Town
By Martin Fallon
Congleton Town have announced the appointment of a new chairman. Charles Porter takes over from Steve Burgess (aka Budgie) who has been Vice-Chairman and then Chairman over the past 17 years.
Steve (pictured with Respect Officer Stewart Taylor) has overseen a number of changes during his tenure and leaves the club in the capable hands of life long Congletonian Charles Porter who has been instrumental in some major changes at the club both on and off the field. Charles is looking to develop and raise standards at the club.
Budgie will stay on at the club as club President and will assume the role of Club Ambassador on matchdays. Over the past six years in particular, Budgie has seen the Bears win the Premier Division Respect Award every year it was awarded – 4 times with 2 seasons that were curtailed by Covid. It is an award that he and the club have been proud to win as the philosophy of the club has been to be competitive on the field but hospitable and respectful off it.
Budgie will remain a familiar figure at grounds home and away, and he will certainly be seen in the hospitality suite at Booth Street helping the club's guests enjoy the club's much appreciated half time refreshments.