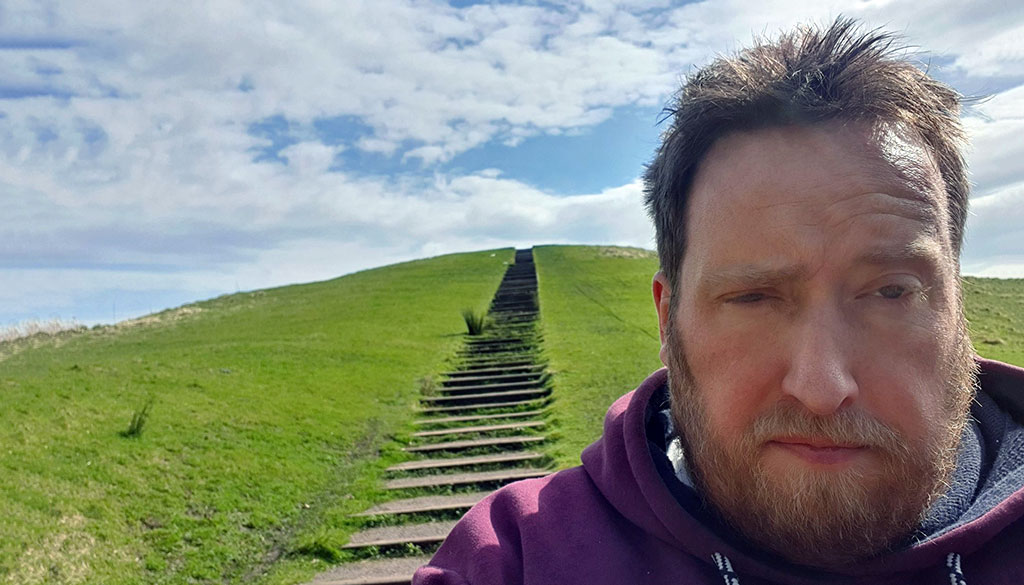 Preparing to Return - Ashton Town
Mon 29th March 2021 | Ashton Town
By Gary Langley
Preparing to return: Mark Hayes, Ashton Town
As we all start to hope that the roadmap to recovery is starting to kick in, we take the opportunity to speak to any clubs most important asset – its volunteers, to discuss how the pandemic and all of the worries that it brings has been for them. We also discuss how things have been at the clubs, for all involved and what the plans are for going forwards as football slowly returns in various stages over the coming couple of months.
We have caught up with Ashton Town Chairman, Mark Hayes who has been hit with a number of issues during lockdown, in and out of football.
So, Mark, first up how have you been keeping in yourself?
I've been ok thanks, I've been as best as you can be during any pandemic. I'm a very positive guy normally so I've tried to make the best of a bad situation. I've in effect had my Football and my Pub business taken out of my hands by the global situation but recent positives have come through and the spark never goes away. In the pandemic's first lockdown I put on a bit of weight but in the second lock down I was conscious that I needed to stay active and get the weight off and to maintain the positive outlook even in the worst of situations.
Do you feel it challenged you mentally? Many folk have been affected in different ways ranging to extremes, some, sadly have not made it to this point so were you wary of keeping your mental health strong?
Totally! As I say, I'm normally a positive person and always try to put a positive spin on things, however, like many I have had a number of positive and negative waves. Some days I have woken up but just did not want to get out of bed. I shook myself and looked at the bigger picture, that being that hopefully this will be the only time in my lifetime that I will be paid a percentage of my wage to go out and take in some exercise or to take on a project at home, so did just that to get myself out of a rut.
I started by challenging myself to get my 10,000 steps a day in and I started to get on to this and get it achieved. It started with Dave Dempsey (Ashton Town's Manager) asking me if I fancied coming out for a walk and that started getting further each evening to a point where I was using the East Lancs Road as a Walking track. I used Dave's advice to walk between one set of Lamp post then run to the next, then walk… and so on. I came across a hill on the internet called Teletubby Hill which looked a great challenge, so I researched the location of this and one of my staff pointed out that it was walkable for me in the Sutton area of St Helens.
There is still some way to go but as we potentially approach coming out of the other end of this dark period I will come out of it focussed and ready to go but it affects different people in different ways.
As a Club Chairman, how did you view the curtailment of the season competitively and did your views differ as a Chairman than as a person? By that I mean we all wanted to win and play football but were you reconciled by the bigger picture?
It is what it is, we are all in football to try and win things and to try and get promoted or avoid relegation but the last two seasons have been awful and the circumstances were not of football's making. I look at the bigger picture and I'm sure most of us understand that there has been a bigger picture in the World that we could not avoid and we have all had to come together to take on.
It's Clubs like Lower Breck and Vauxhall Motors I feel sorry for as for those two disrupted seasons they looked ready to be promoted from their respective division in the North West Counties but fate denied them that opportunity. I hope that if/when any re-structure takes place that clubs like these, and those around the Non-League pyramid are acknowledged and given an opportunity to move up.
How did your gaffer and the players take it?
Luckily or unluckily for us, the pandemic came at a time where we had a bit of instability at the club with Manager's coming in and out. Dave Dempsey initially left to take on a role higher up the pyramid and then Glyn Hurst arrived at the club. For one reason or another that didn't quite work out and we were lucky to get Dave Dempsey back at the right time for all parties concerned, however he only had one game before the season was in effect curtailed, a game that he lost so he isn't too happy about having a record of played one, lost one!
The players have been fine, Dave is a people person and a good man-manager and he has kept in constant touch with the players and he has used that time to get to know the players he was unfamilar with and also to challenge them with things like a club Strava challenge and Whatsapp messages. By the time we get playing competitively again we will be ready and solid as a unit.
Have you been able to regularly check in on your players and volunteers?
Yes, totally on both fronts. Dave Dempsey set up the charity mileage challenge on Strava which has been good for everyone to keep in touch with and to create challenges. Even I made an appearance on this challenge and came above many of our players, including one of our star men, Jack Richards in mileage! I was made up with that to be honest. Our Committee is like many Volunteer Committees around the game, we have a split between those who have been working, putting in 40-60hrs a week and those who are retired. We have all kept in touch one way or another to keep that balance and some have been coming into the club on a regular basis to volunteer for some of the many jobs that have required doing at the stadium.
What about contact with folk at other clubs? For us at the league we have been having some contact with some clubs more than others but it's still been nice to catch up with folk, even those who want to bend your ear!
This is where Social Media has come into it's own, can you imagine having to go through the Pandemic and Lockdown's without it? I may not have been picking up the phone calling clubs and fans but I have been active on Social Media and it has been good to keep in touch with others.
Many will be aware of your business activity being a high-profile business and Charity advocate in the Merseyside area, have you been able to keep your business and charitable efforts going?
Well I have certainly tried? I have been in the Pub game for many years now and no matter where I have been I have always tried to make my pubs the heart of the community and The Gerrard Arms has been no exception. We have continued at every opportunity with The Dementia Café and Mental Health group and whilst these are face to face groups, we have adapted and been able to operate in other ways to support these people.
Monies raised from the likes of the Dementia Café have been put back into the people and in-turn used to help others who have been helping the community during this time. The Table 12 Mental Health support Group has been active and we have still been able to reach out, but of course we have had to adapt.
The Pub business I have been constantly working on as the restrictions, tiers and roadmaps have all presented different and difficult operating conditions, however we have adapted our Beer Garden to a 496 capacity at table service facility for when we can re-open which will hopefully be April 12th.
What state is Ashton Town in at the moment then? Are you ready to host football again or do you need to get the weedol out?
We could not host a game right now but there is a reason for this. Our club is probably as financially stable as it has been for a while now as we have been savvy in applying for grants from the likes of the Football Foundation and the Local Council. We have not wasted a single penny, we have taken time to work on the club and to get the pitch and facilities right.
Those who know Edge Green Street will likely be familiar with the housing estate that has sprung up around the ground in recent years and this has had an effect on our drainage capacity, this affecting the pitch quality. It's well known that we have lost games over the years due to a poor drainage area in the lower left-hand side of our facility. We have been sorting this by putting in 200m of new drainage and our volunteers have been working their backsides off to make this happen. We wont have the pitch playable for a few weeks, but when we do come back it will be ready for the long term.
What plans do you have at Town between now and the season starting in July to get football activity going again?
We are looking forward to getting playing again, indeed we have a game tonight (Monday) for our First team. The majority of our squad has stayed with us and we have been putting together a series of friendlies together. Tonight, which is our first opportuniity of football, we play FC St Helens, who's league season starts again very shortly and we will be splitting our squad into two XI's over the coming weeks to get game time into the players.
The Ladies team season reconvenes soon, so they will be good to go and our U18's side will be leaving the West Lancs Youth Alliance due to their age and we have re-located them into the Cheshire League. We were very impressed by The Cheshire League when we played in it a few season's ago and we think this will be a great stage for the next generation of Town players to earn their stripes and get ready for the challenges of First Team action.
What are your main hopes/concerns for when League and Cup football does get going again?
My main concerns will be the same as everyone else's probably! It would not be great to have another season of stop/start activity or with no overall outcome. We will be looking to build on the wave of interest in the club that was happening just as lockdown hit, we had 63 season tickets for the 20-21 season and I genuinely think we will get over 100 for the new campaign.
People won't have too much disposable income and some may not fancy the big stadiums for a while so clubs like ours and those around the NWCFL offer real football in a local environment with good quality on offer.
We still have Emerson Boyce with us and of course we are hoping to attract Wigan fans who do not fancy the away trips and of course our Manager, Dave Dempsey still has what he feels is unfinished business to get us challenging for promotion to the Premier Division.
Many thanks to Mark for his time and for his insight. Here's hoping we will all get together soon be it over a pint, a coffee, a pint of coffee… or whatever. Despite the challenges, there are still reasons to be cheerful and optimistic.