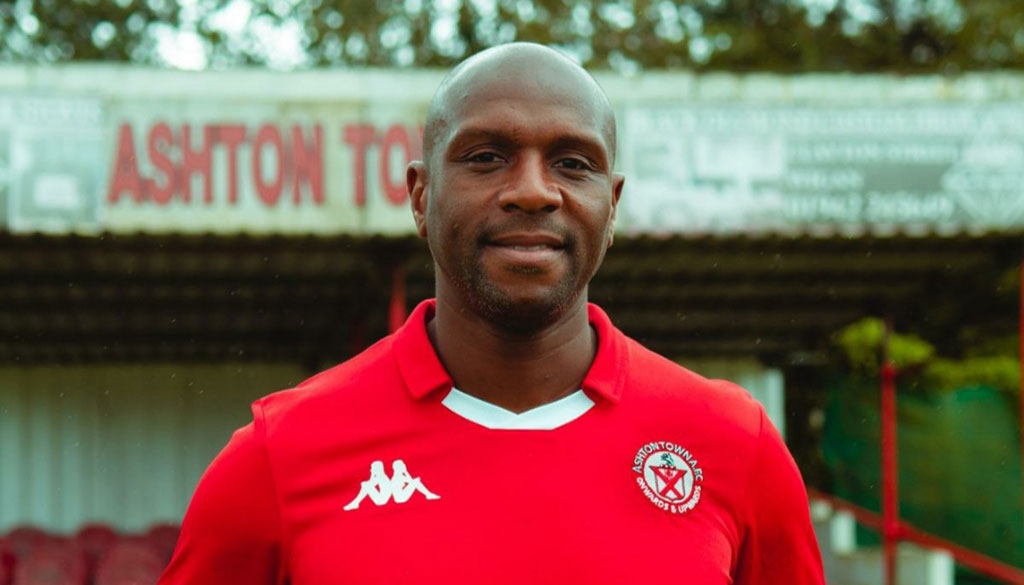 Ashton Town sign Latics Icon
Sat 29th August 2020 | Ashton Town
By Gary Langley
Ashton Town Chairman, Mark Hayes has done it again! Ashton Town have announced the signing of former Luton Town, Crystal Palace and Wigan Athletic defender, Emmerson Boyce.
Ashton Town have a strong link with the likes of Wigan Athletic and their former players through Chairman Mark Hayes work with the Josephs Goal Charity and he has used these links to work with former players for the benefit of the wider community. This is not the first major signing for Town either as Boyce follows the likes of Pascal Chimbonda in donning the famous Red Shirt at Edge Green Street in recent seasons.
Mark Hayes has stated today "Football has been my life and it has got me through bad times as well as many good times. I'm a firm believerof believingin your dreams and if I can make people smile with them even better! This is my proudest moment as Ashton Town Chairman."
Speaking of his signing, Emmerson spoke about his motivation for getting his boots back on, what he has been up to recently and how it all came about.
"I'm excited about pulling my boots back on. Mark (Hayes) is a great guy with an amazing kind heart, He has done so much for the Josephs Goal organisation, perhaps without gaining the full recognition for this within football. With working with Mark recently I asked him if their is anything I could do for him and I think tongue in cheek he said would I play for his team , I think he had a shock when I said yes!
I've been commentating for BBC Manchester and watching the games has made me realise how much I've missed playing, I am still fit and healthy and still got a lot to give. So many former players always say to me I should keep on playing till you physically can't. A few teams have asked me in the past but I always turned them down as I need a reason to light the fire in my belly. With this pandemic and situation at the DW Stadium, I suppose this also gives the Wigan fans something to talk about or even to come down and watch a former player. Obviously within the safety guidelines!
My passion is to give something back to football, no matter what level and the North West Counties League is a strong and competitive league. I've set up the Emmerson Boyce Football Academy which is based in the Wigan, Warrington and Altrincham areas so far and we have been working with all age groups. Ex Wigan player Neil Rimmer is one of my coaches and we often have some of my former teammates who come down and put on some sessions as well as doing loads of one-to-one sessions at different age groups. We have been working with local junior clubs including Womens and mens teams as well as providing fitness training for professional players from different sports through my work as a personal trainer. If you're local to these areas feel free to enquire at
EmmersonBoyceAcademy@yahoo.com
This has gave me so much satisfaction, my passion is football, as everyone knows I Captain the Barbados National team.
We are in the process of finalising a second Academy in Barbados as well as the Emmerson Boyce Foundation, to help local communities give opportunities and create pathways through sport and education, but most of all its going to be educational based amd life skills as I believe education and developing of the whole person is more important than the title of a footballer.
I am looking forward to training next week with my new team mates, looking forward to the new season ahead and I thank Mark and Ashton Town football club in giving me this opportunity and re-lighting my fire again."