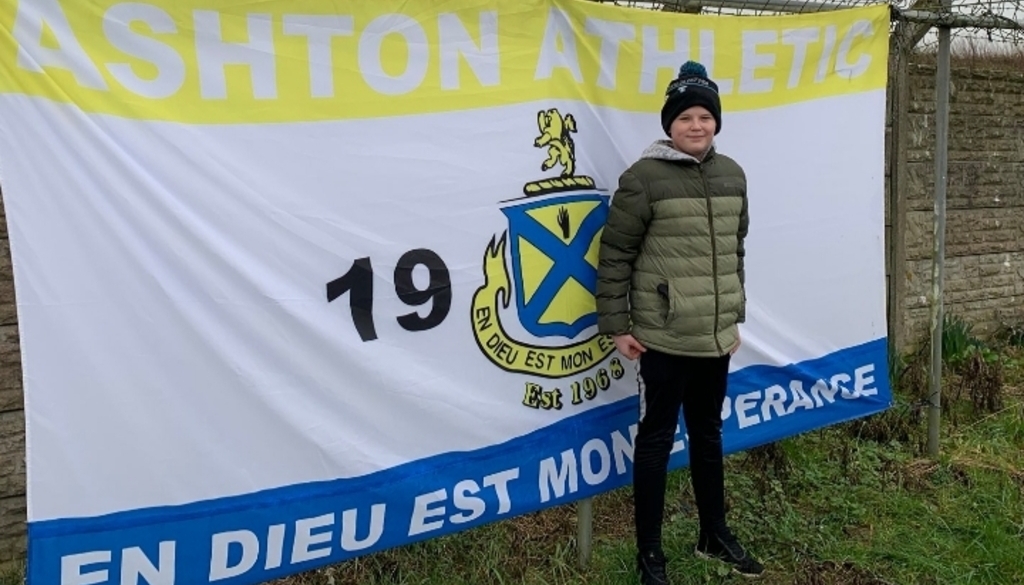 How youngster Thomas Smart ended up volunteering in Non-League football
Fri 31st January 2020 | Ashton Athletic
By Craig Kendall
Fortnite, tablets or lounging around. These are the typical recreations for 14-year olds "nowadays" but for one youngster from Wigan - this is just not the case as he volunteers at NWCFL Premier Division outfit Ashton Athletic.
Currently at secondary school preparing for his GCSE's, non-league fan Thomas Smart finds time on weekend's to help out at his local club, "I started volunteering due to my love of the game and I was interested to see what actually happened at a non-league club. I had been to one cup game against Ashton Town before and I was interested to see what jobs I could do and I wanted to be a part of this great club."
It all started one night under the lights at Ashton, "I wanted something to do on one Friday night so I thought I'd go and watch my local club, Ashton Athletic. It was a great game and I enjoyed it. The day after I contacted the club asking when was there any volunteering roles. They said "yes" and that's where it all started.
"I started selling programmes and ball-boying and then I gradually started doing other things like cleaning the dugouts and moving things about. After a few weeks of volunteering, I was sat in the manager's car with the other manager and the Chairman going to Runcorn and then a few weeks after that I was doing the same but this time going to Oldham.
"I would've never dreamt of doing that, that's why Non- league is special. Take your eyes away from your TV and stop reading the stories about the multi-million pound transfers and go and watch your local Non-League club. Everyone at the club will be friendly and they will give you a warm welcome. If you enjoy it you could even volunteer and get to know everyone at the club.
"Never in my life I would think I would know and speak to all of the players and managers at a football club but that's why non-league is special. Ashton Athletic do have lots of games coming up to if you are interested go and have a look on the North West Counties Football League website and take your pick. Support your local team!"
Thomas ended with a rallying call to other football fans, "Have you ever wondered what other things happen in football on a Saturday? Well I can tell you. There are thousands of local clubs with armies of volunteers helping keep the club running!"
A big thank you to Thomas for getting in touch and to his Mum for allowing us to run the story.