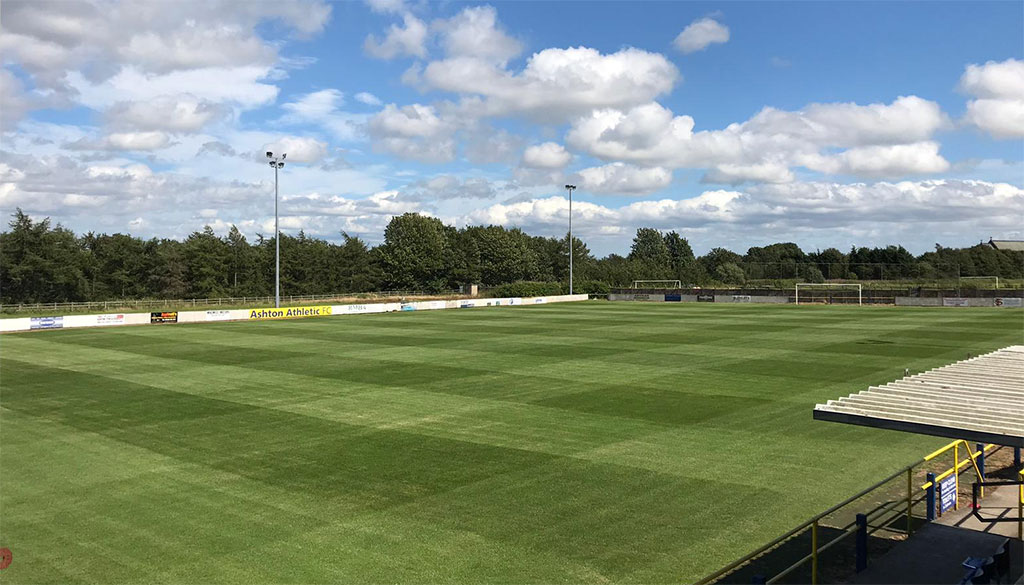 Foulds believes Ashton have turned the corner
Thu 18th July 2019 | Ashton Athletic
By Craig Kendall
Since taking over at Ashton Athletic in 2014, Jay Foulds and Dougie Pitts have guided the Greater Manchester side to a number of decent placings - including last season's joint high of fifth in the NWCFL Premier Division.
"This will be my sixth season in charge", Foulds opened with. "I came in in 2014. I was still playing at the time and came in as player-manager. There were three of us when we took the job; myself and Dougie still do it. Ben left and went to Clitheroe but now he's the groundsman at Chorley. He was the groundsman at the club as well. We were together for three years, then Ben left so myself and Dougie just carried on.
"I was playing at the time I took over. Dougie had retired – he retired early at thirty – but myself and Ben were playing. I retired about two years ago. I couldn't keep giving stick to the lads when I was playing crap myself so I hung my boots and my gloves up and said, "That's it!" I felt like a bit of a hypocrite at times, saying stuff, so I had to get someone else in and stand aside. "
In 2014-15 Foulds and his side accumulated more points than last season but finished fifth (same position), but he believes it is more competitive than ever, " It's definitely become more competitive. I think at the time we took over Ashton, they were always in the relegation spots. They should have been relegated one year but they weren't. I think they had one good season but they were reprieved a couple of times. I think in the first couple of seasons everybody was just turning up and thinking it's only Ashton.
"I look at the team we have now to what we had then and we're by far a better team now but, again, I think the standard's raised. We went there and surprised teams with some of the football we were playing and the lads we had. We turned the club around a bit. I think it was the unknown really. Teams probably disrespected us a little bit and we caught them with their guard down. We did well for those few seasons.
"We've done well with all our seasons. Probably underachieved a couple with some of our finishes but we've done a pretty half-decent job for the budget we have.
A real coup for the club was to play National League North side York City in the FA Cup Second Qualifying Round last season, "To be fair, I don't know if that's a good thing or a bad thing. It's good for the club because we make money in the FA Cup and we've had some decent runs in the last few years but we always seem to coincide that with poor League starts.
"I know the club would want the FA Cup runs but we want the good League start, especially this season with three going up. We want to win all our games but it's vital that we start well in the League. Funds-wise, it's massive for the club. We said that we'd try and win at least a couple of games in the FA Cup, which we'll go all out to do as well.
"Last season we had probably two stands out really poor games and the Maltby Main game was one of them [in the Buildbase FA Vase]. We were actually embarrassed. We were well off it that day and we turned a corner after that, where we started picking some results up. From just before Christmas and onwards we played some really good stuff.
"With the run of games, the run of wins we had and the points we had if we'd have done that all season we'd have been challenging at the top. Unfortunately, we had a poor start, which cost us finishing further up the table.
Foulds continued, "On social media, I read a lot of stuff and seen some of the signings that clubs have made. Some clubs are throwing quite a bit of money at it to try and get promoted this season. I feel it's going to be one of the most competitive seasons and I think there'll be quite a few teams in the mix at the end of the season.
"I'll be very surprised if somebody runs away with it this season. They didn't last season. A few seasons before that there's always been somebody that's run away with it. I think it's going to be a really tight one but I think there'll be more than a few challenging for it come to the end of April.
With time to have digested the fixture release last Monday Foulds reflected, "It's one of those! I've looked at it. I think we've got a tough start and some big games. Luckily we start with two home games but the second game is Runcorn Town at home, who are a very good team. We've then got Bootle, we've got Barnoldswick away so throw in that with the FA Cup, it's a tough start.
To be fair, I don't think there are going to be any easy games. You've just got to take it game by game. We've got to play everybody twice over the course of the season so whether we play them at the start, the middle or the end, it's up to us to not really worry about that. We'll just go out, play our game and hopefully we'll get the results."
A big thank you to Ellie Dalglish for transcribing.