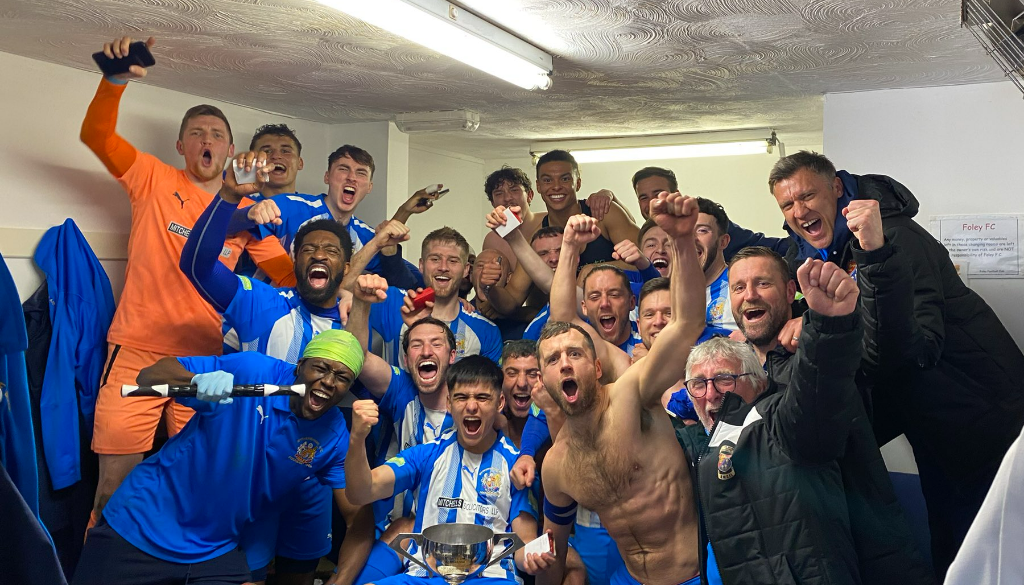 Ammies ready to build on this season's achievements after title win
Wed 19th April 2023 | Wythenshawe
By Jay Cooper
A few weeks ago, I posted an article about the fact that, if Wythenshawe Amateurs could beat Maine Road in the NWCFL First Division South, they would be confirmed league champions. Unfortunately, on that day, Road came away from the game with a 1-0 win, and Stockport Town's win on the same day in their derby against Georgians brought the title race to the final day, with just a point separating both teams.
I was worried I might've jinxed them in their push for the trophy, but, in the end, it didn't matter. On the final day, all the Ammies had to do was better Stockport's result and they would win the league title. Town won 4-0 in a convincing display against Barnton, in a game that I was fortunate enough to attend, but Wythy simply said "anything you can do, I can do just as well", and won 4-0 against already-relegated Foley Meir.
Wythenshawe's season started incredibly brightly, winning their first 5 games, scoring 13 and conceding just 2. Their first defeat came in game 6 against a side that would eventually make the play-offs in Cheadle Town, but that would only be one of five losses that they would suffer throughout the entire league campaign.
Their closest challengers throughout the season, as mentioned, were Stockport Town. As is to be expected in league competition, these sides came toe to toe with one another on two occasions. On those two occasions, Wythy were victorious both times. In the second game of the season, at the Selco Builders Warehouse Community Stadium, Wythy pulled out a slender 1-0 win in a match that we didn't know the cruciality of at the time.
That game was an away one for Town, but their home record throughout the season was exemplary. They went unbeaten at home from the beginning of the season, all the way through to March. On the 11th, they faced Wythenshawe Amateurs once again. After an Isaac Abankwah opener, a Brian Ly brace would be enough to seal 3 points for the Ammies against Town for the second time.
This result was a turning point in the campaign. It gave the Ammies the extra boost that they needed to retake top spot in the table, just as they had in the opening weeks of the season. For the middle of the campaign, Stockport, who were as free scoring as they could possibly be, were the champions elect. The two top scorers in the league were Town's Dan McLaughlin, and Town's Scott McGowan. They didn't look like they were for stopping.
However, after the aforementioned result where Wythy managed to take all three points from the fortress that Town had made out of the Stockport Sports Village, they used it as a launching pad and took the torch a few metres before they crossed the finish line. And on the final day, they held all the cards. The only team in their way was Foley Meir, but they had been in that position a mere 5 days earlier, so nothing was guaranteed. The Staffordshire side were also being backed by most people present for the game at the Stockport Sports Village, where Barnton were the visitors.
After what I can only imagine was a tense opening half hour, it was still 0-0 at the McIntosh Arena, whereas Stockport Town had taken a deserved 2-0 lead over Barnton to, as things stood, take 1st place in the league. However, Wythy finally broke the deadlock right on 30 minutes when Joe Bevan fired one in from range. They would make it 2 before the break as well, when Joel Aiken head blasted a strike into the bottom corner.
Elsewhere, it was 3-0 at Stockport when the half-time whistle went. Wythenshawe were doing a commanding job by the interval, but they knew that Stockport were not going to let up, just in case they did. So, they came out swinging in the second half in order to put the game, and season, to bed once and for all. A mere minute after the restart, Bevan grabbed a brace for himself by curling home after being played in by Brian Ly.
The game continued in a similar fashion, with Shane Goldrick's men being in control, and they added a bit of glamour to the result with a minute to go, when substitute Saul Henderson rounded the Foley keeper for a 4th. It hadn't mattered for a while that Stockport had managed to match that scoreline in less minutes in their match – it really was over now.
Wythenshawe Amateurs had done it, they were NWCFL First Division South champions! After failing to take their first chance to claim the crown against Maine Road, they regained their composure when it mattered most and got the job done. Speaking to gaffer Shane Goldrick in the aftermath of the victory, he offered incredible praise to his players.
"All the lads have been fantastic and it's a similar group that I worked with last year when we missed out on the play-offs to FC Isle of Man. It has helped having a core group of players that have known each other for a couple of years now. We have only made a few additions since the start of the season and some lads who have had gone to play higher have actually come back to play for us, so it shows how good of a changing room we have."
However, a team is more than just its players, and Goldrick knows that. "I'd also like to thank my management team who have been great with the lads (Jake Davies, Mike Turner, Declan, Tweets, John Cotton and Rob Brown) as without them we wouldn't have had this success… …it has honestly been a pleasure working with this group of players and the club and everyone involved with the club."
With regards to the crunch tie against Foley Meir, Goldrick also offered his thoughts. "We were obviously disappointed not to get over the line against Maine Road on Monday and we didn't play to the levels we are capable of. However, from the warmup, I could sense a different atmosphere about the game on Saturday." To have that mentality is one crucial thing, but "when Joe Bevan's deflected shot went it, it settled the nerves. The lads didn't sit back and kept pushing and pushing, and I couldn't have asked for a better start." It was never an easy game, though, with Goldrick adding that "Foley did make it difficult for us, especially when went down to 10 men."
Whilst Foley were their opponents on the day, their adversaries throughout the season were, of course, Stockport Town, and Goldrick had his thoughts on his sides' title rivals. "They have pushed us the whole year and made it extremely difficult for us. They have sat at the top of the table for the whole season, pretty much, so they were the ones we had to fight against right up until the end of the season to take the title. Beating them at their place gave us massive belief and I think we went on a 12-game unbeaten run including that win, and that enabled us to succeed."
Stockport Town's manager, Paul Turnbull, also gave credit the champions after their defeat of Barnton proved to be just slightly less than what was needed when all was said and done. "Absolute credit to them. Last season, they (West Didsbury and Chorlton) won the league on 91 points – we're on 92 now, and they're on 93. This won't happen again, it's a bit of a freak season, that there's been 2 teams on 90+ points. But, well done to Wythenshawe for winning the league, and I hold nothing against them at all. It's been a good battle all year."
So, what comes next? Well, as champions, Wythenshawe Amateurs will be thrown directly into the hat for promotion, and, providing they meet all the ground and admin regulations, which they are absolutely going to do as things stand, they will likely be staying within our pyramid and playing NWCFL football again next season, in the Premier Division. Shane Goldrick is well aware of the challenge ahead for him and his players, and he knows that they will need to "make plans to build on what we have achieved this year and key thing is that we compete in the league above."
However, he knows just as well that his side are ready for it. "I'm confident with the squad that we have got can do that, but we will look to bring in a few more additions to refresh the group even further and keep the levels of competition high. Looking at the teams in the league above, it will be an extremely tough league, but it's something we are looking forward to."
As for Stockport Town, they will venture into the First Division South play-offs, where they will face Cheadle Town in the semi-final, and, should they win that tie, they will play host to whoever their opponents may be in the final, as they are the highest-seeded side in these play-offs. A more advantageous position you could not be in when going into a play-off campaign, as it is a setup that can bring about serious upsets.
When speaking to Turnbull about the upcoming games, he told me that their mentality going in will be "exactly the same as all season. We'll go and try and blow teams away in the first half – do exactly what we did today (against Barnton). That's the mentality going into the play-offs – to play football, we're not a long ball team, we'll try and play the right way." When discussing the teams' confidence levels, Turnbull also stated that they are "100% confident. You've got to be. The lads are all celebrating the season now, because it's been a fantastic season. 92 points, as I said – it's a credit to them, it really is."
At the time of writing, it remains to be seen who will join Wythenshawe Amateurs in promotion from the First Division South, and from the First Division North, for that matter, with both Pilkington and Chadderton still going at it for the league title in that division. However, with the end of the season in the South, it is only fitting that the winners are allowed to bask in their moment. Congratulations to Wythenshawe Amateurs!
Image credit: Twitter, @wythenshaweafc, 16/04/2023