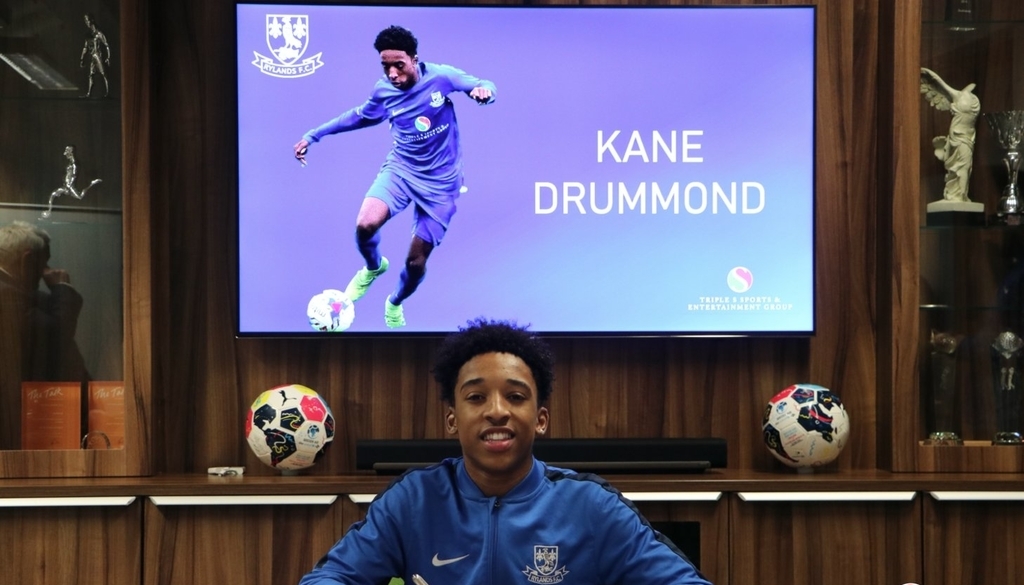 An historic moment for Rylands
Tue 21st January 2020 | Warrington Rylands 1906
By Craig Kendall
Friday became an historic day for NWCFL Premier Division side Rylands as, after receiving confirmation from The FA & the NWCFL, they announced that Kane Drummond has signed a contract with the club and in doing so becomes the first contracted player in their 109-year history.
The 18-year-old forward who has netted 10 times for the blues since joining in the summer, has gradually got better and better under the guidance of Dave McNabb and Fraser Ablett and has been outstanding during the last month in particular, receiving five consecutive player of the match awards as nominated by opponents.
A statement from the clubs says, "A number of clubs have been circling and the club felt it was only right to offer him a contract and reward him for all his work and effort.
All associated with the club would like to say, Congratulations Kane! And we look forward to being a part of your football journey.
Upon signing, Kane said "I'm really, really happy. It's a big step for me and the club and I'm looking forward to it. I love playing football for Rylands and I'm incredibly proud to become the first contracted player in the club's long history."
Manager, Dave McNabb added "It's a big day for the club and I'm really proud to be part of it. This is the first time the club has ever contracted a player in over 100 years of history. Ultimately, today is about Kane Drummond and I'm absolutely delighted for him. Kane deserves this for his performances on the pitch and what he brings to the dressing room. He's a fantastic footballer and an even better lad. Fully deserved, congratulations Kane!"
Chairman, Mark Pye said "I think today again shows the club's ambition. In our 100+ year history, Kane will be our first contracted player. I'm delighted for Kane and the club that we've been able to make this happen. This is also a great reminder to our younger players of what we can offer."
Rylands next game is on Saturday, away at Northwich Victoria in the NWCFL Premier Division (3:00pm kick-off)