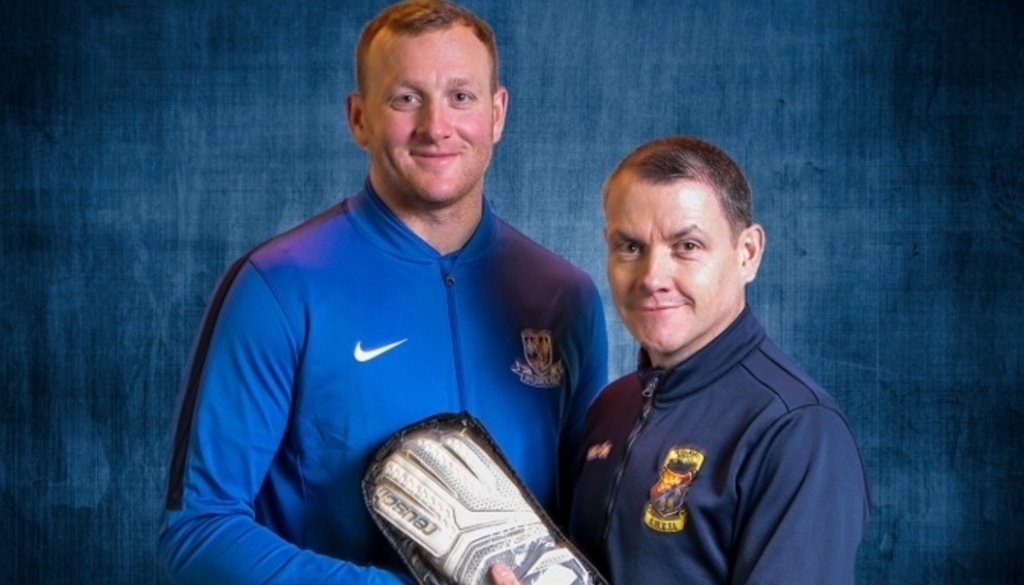 Rylands keeper pulls off a worldie!
Fri 8th November 2019 | Warrington Rylands 1906
By Craig Kendall
Rylands keeper Graeme McCall is never too far away from the headlines, be it winning Goalkeeper of the Month (As pictured with League Chairman Paul Lawler earlier this year), or now alongside four friends - Liam Pilkington, John Bullen, Gregg Jaymes & Jonathon Keddie – they have been in Africa climbing the world's tallest free-standing mountain.
Their goal in reaching the summit of the 19,341 ft high (above sea level) Mount Kilimanjaro in Tanzania was to raise money for "The Lilac Centre" based in Whiston and St Helens hospitals which care for cancer patients and their families.
Graeme explained to the Warrington Worldwide Magazine his reasons behind the climb: "It is becoming all too frequent that you hear about so many people being affected by cancer in some form or other, however, it wasn't until my sister was recently diagnosed with breast cancer that it hit home how tough the battle and journey really is not only for her but also for her family and friends".
"Only by being thrown into this life-changing situation you come to realise how tirelessly hard NHS staff, individual groups and charities work to make this difficult time as comfortable as possible for the patients and families of those affected by this disease. The various heart-warming touches provided by the NHS staff at my sister's hospital have inspired me to want to give something back and to help other families affected in the same way."
"Upon sharing my ambitions of fundraising with my work colleagues at Bolton Steel Structures they too were inspired by my sister's story and generously pledged help raise funds and awareness. They began the fundraising by offering the chance of a lifetime for me and some colleagues to fly to Africa to Trek to the summit of Mount Kilimanjaro. This act of kindness in its self deserves worthy recognition and I can't thank them enough for providing this fantastic opportunity to raise money for such an important cause".
Before setting out Graeme said, "It's going to be a tough battle to get to the top but nowhere near as tough as the battle thousands go through with their battle with cancer". On his return, he described the six days spent on the mountain to Warrington Worldwide as "horrendous."
Having prepared for the trip by undertaking a weekend boot camp he continued, "It was the hardest thing I have ever done, I had altitude sickness from the second day and since returning have been receiving treatment for malaria".
"I set my stall high as I wanted to raise £15,000". A total which has already been surpassed but further contributions are still being accepted because Graeme says "once the £15,000 has been donated to the Lilac Centre any extra funds will be donated to other local cancer charities".
Donations can be made via Graeme's JustGiving page at Read Bolton-Steel-Structures's story or Graeme can be contacted through Rylands Football Club.
Graeme expressed his thanks to all who have contributed and acknowledged the support he has received from his club saying "Since starting this fundraising Rylands have gone the extra mile to help me raise funds and understand the time away from the club I need"