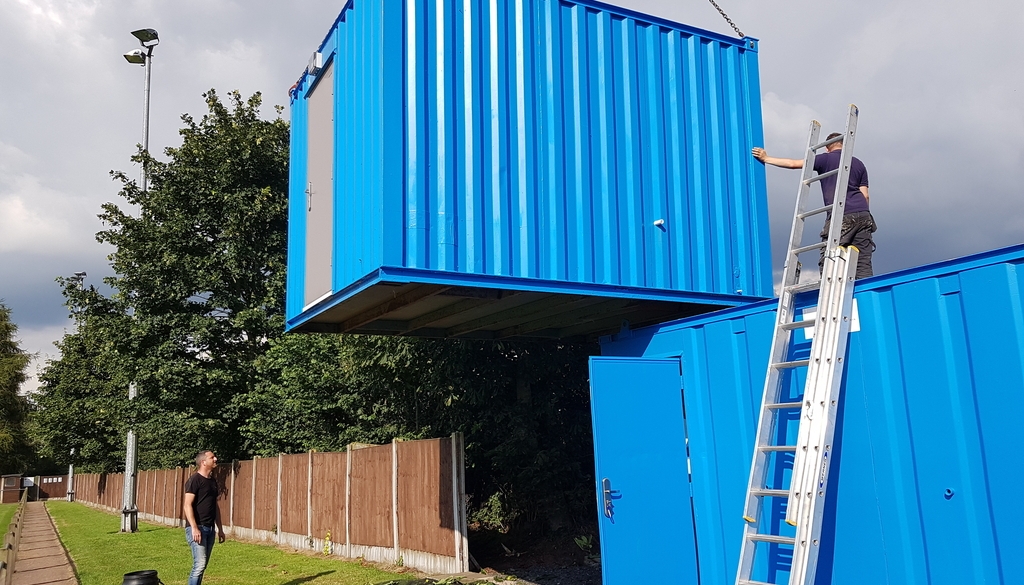 Ground development work at Eccleshall
Thu 8th August 2019 | Eccleshall
By Craig Kendall
Aside from the usual pre-season maintenance projects of painting changing rooms, club room and all around sprucing up in readiness for the August kick-off, major development work has been undertaken during the close season to resurface and extend the existing car parking at the ground, install security doors at the clubhouse and also install external gents, ladies and disabled toilet facilities.
The club was successful with an application to the Football Stadia Improvement Fund which is funded by the Premier League. The £19,627 grant from the FSIF together with a further £7,956 from the Football Association National Sports Centre Trust enabled the work to go ahead. Whilst the work on the car park and security doors is completed, the toilet cabins were only delivered to Pershall Park on 2. August. It is anticipated that these will be fully up and running for the club's next home game against Ellesmere Rangers on 21. August. The old, worn-out cabin can then be removed from the site.
Eccleshall Secretary, Jim Tunney, said: "Grassroots clubs at our level have to maintain their ground grading standards when their own funding levels can often be restricted and we are no different in that respect. This essential work will further improve visitor facilities at Pershall Park. The club is extremely grateful to the Football Stadia Improvement Fund and the Premier League, together with the FA National Sports Centre Trust for the grant funding towards this work which, quite simply, could not have gone ahead without it. We also appreciate the help and support we received from the Staffordshire FA in the early stages of our application. The club will now benefit from greatly improved toilet facilities for spectators and the extended and resurfaced car parking will provide easier access for visitors on match days. Our club security will also be improved".
Peter McCormick OBE, Chairman of the Football Stadia Improvement Fund said: "The FSIF is one of the many ways that the Premier League is offering a helping hand to clubs further down the pyramid. I commend Eccleshall FC for their efforts in securing this Premier League funding towards their stadium upgrade project".