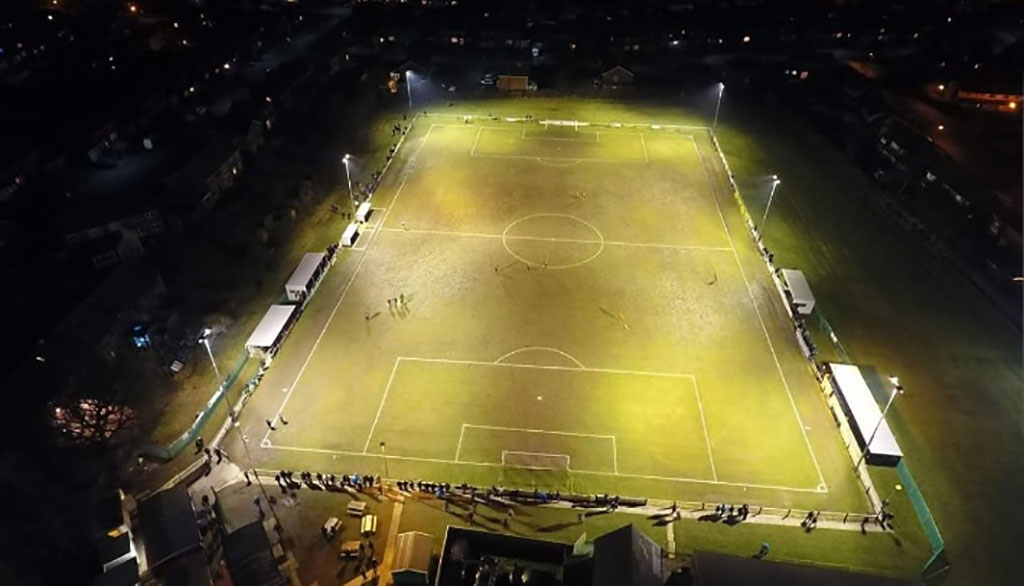 It's been a big learning curve for McShane
Tue 23rd July 2019 | Barnton
By Craig Kendall
It is certainly full steam ahead for Barnton off the field as their ground transformation is taking shape, and on the field, manager James McShane is hoping his side can develop too.
A twelfth-placed finish in the NWCFL First Division South last season for the Cheshire side also saw McShane step up from player to manager in a transitional season for the club, "Last season saw me stepping from player to manager: a big learning curve. Last year was a big transitional year for the club. We had a lot of players leaving. I had my own thoughts on what type of players I wanted at the club. We got rid of a lot of the older lads to give youth a chance, especially last season.
"We're just going to keep on developing and hopefully this year we're going to have a bigger push. I want to see every year that we're doing better. We want to be higher up the League come May.
"For some clubs, it will probably be their best chance to go up, rather than with just one or two going up. Around November time I think we'll find out who are going to be the ones pushing for promotion. In my eyes, there are about six or seven that could potentially take those top four spaces.
"I think the League gets harder every single year. I wasn't particularly too impressed last year with the quality. I don't want that to sound really bad but it was just that teams were really well-organised, rather than the quality of football.
Stepping up from player to manager has been a difficult transition, "It's a massive change. People don't realise how much time and effort the managers and their management team put in. As a player, you just turn up at a specific time for training, then get off when it finishes. When you turn up, everything's all laid out for you. You don't have to go out and watch other teams, other players, speaking to the players in the actual group you've already got. It's quite a shock, to be honest.
"It was a big learning curve. I was a player in the League for the past 10-12 years and I thought I knew quite a lot about the League and last year was a bit of an eye-opener. I didn't realise we had to do that, didn't have to do this, didn't have to do that. I'm never off my phone. When I finish work, I'm on my phone until nine or ten o'clock at night, every night, trying to sort out either a midweek game or getting the squad ready for the Saturday.
And on Barnton's pre-season so far, "There have been positives and there have been negatives in all games. I've seen more positives in the games we've lost than the games we've won. The fourteen-goal thriller was a bit of a mad game; every shot seemed to go in! I don't know if it was bad goalkeeping or exceptional shooting by the forwards that day.
"I've seen a lot of positives and we've played two very good teams in 1874 and Runcorn. Over the last three or four games, for a large majority of the game we've been in there and that little bit of quality killed us in the end. A lot of positives! I'm extremely happy with where we are at the minute so I'm looking forward to starting in August.
Unfortunately, an admin error cost Barnton a place in the Buildbase FA Vase, but McShane had a positive spin on it, "Not this season! There was an admin error and it's very rare our Secretary gets anything wrong. I know the lads look forward to the FA Cup and the FA Vase. They're the competitions you want to be in, especially a club at our level. It was just a minor error. He thought the paperwork had to be in on Tuesday and it wasn't; it was Monday. It's just one competition that we don't have to look at now and it gives the lads a bit of a break. We can regroup and we can focus our attention on the League.
Lastly, McShane touched on their fixture schedule at CW8, "We've got a really hard start. In the first month, I think we play teams that finished in the top six last year so that's not going to be very easy. We have to take every game as it comes and we will sort each game.
"I'm more than happy with the run-in this year than I was last year but every team changes every year so you have to wait until everyone plays each other. By the end of September, you'll have an idea of who's doing what and the formations that they're playing. It's a massive turnover from preseason if lads are trying to play at a higher level. If they don't get in, they come down so every team will have the odd lad like that."