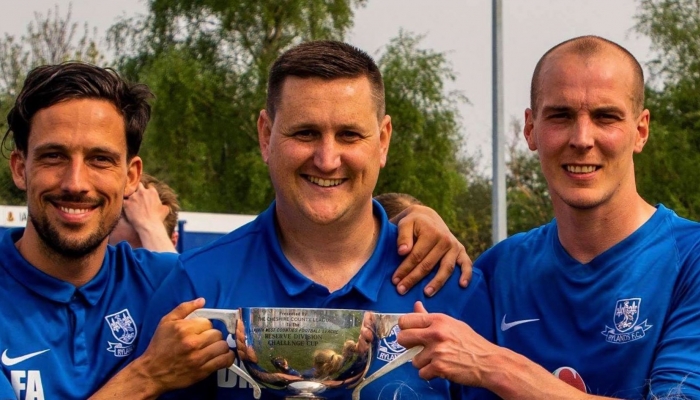 Ambitions high for title winning Rylands
Fri 21st June 2019 | Warrington Rylands 1906
By Craig Kendall
In their inaugural season in the North West Counties Football League, Rylands stormed to the Division One South title with an impressive 85 points from 38 games, seven points ahead of second place Vauxhall Motors. (Main photograhy by Match Day Media and Events)
Joint manager David McNabb has been with the club for just one year and was reflective on last campaign, "Last season was brilliant. I thoroughly enjoyed every minute of it. It was a massive challenge building the squad from scratch at the start of the season but we quickly established a very strong spine of players that encompassed what we were about. The lads were fantastic throughout the season and to win the League as well as the Champions of Champions Cup was a remarkable achievement in the clubs first season in non-league. Everyone involved in the club has worked incredibly hard to get it to where it is and they are all a key part of what we did last year."
With Step 5 football in the Premier Division just weeks away, McNabb is confident his side can compete, "Next year is going to be a monumental challenge and we will need to be more resolute and mature in our performances as we come up against stronger opposition. Last year we finished the season with squad average age of 23/24 so quite a young group. We did however gain some invaluable experience throughout the season and we will need to utilise that to improve and push ourselves to be ready for next year."
Ambitions are high for the men from Gorsey Lane, "The clubs long term aspirations are to keep climbing the leagues. I know that's easier said than done but I want to be involved in an ambitious club and environment and that's exactly what we have at Rylands. We are realistic and know this won't happen overnight but we're trying to lay the foundations to make this possible."