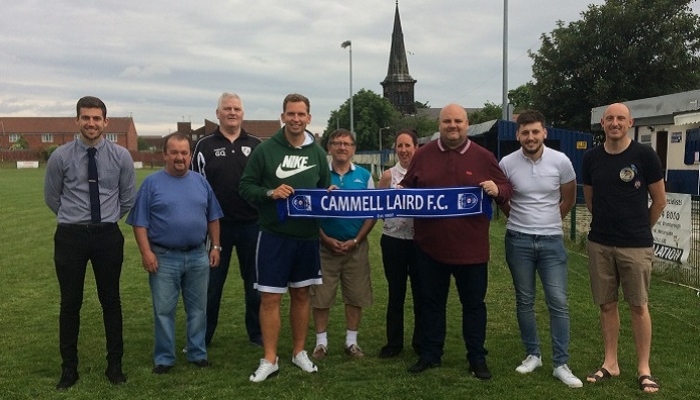 New manager at Cammell Laird 1907
Tue 19th June 2018 | Cammell Laird 1907
By Patrick Burke
Cammell Laird 1907 have announced the appointment of Phil Burton as their new first team manager.
He takes over from Mick McGraa, who left after steering Lairds to the play off final and the LWC Drinks First Division Cup final.
Phil gave an in depth first interview discussing how he hopes to excel in his new position, and it was clear from the outset that Burton was thrilled and incredibly proud to be trusted with the role.
"It's a great club with great people, which is all I wanted. When you get the two together, something special can happen. I'm really looking forward to the challenge ahead, and my phone's red hot at the moment which is all good and positive!
"I just have to stress how much of an honour and a privilege it is to be coming into the club. It's very well established and has great history, which was a huge attraction for me. It's a big club with big pedigree, so I'm delighted to be here.
"It's also undergoing transformation at the moment. There's a lot going on off the pitch at the moment which I'm aware of, which is positive and excites me, and on the field we've got a little bit of a transformation going on as well. I'm excited to see who's going to be staying to help us build on the success that Mick had."
Burton's most recent managerial position was a very successful stint in the West Cheshire League at Rainhill Town, but he has also had roles at Prescot Cables and in the Hallmark Security League with St Helens Town. He says that those previous ventures will serve him well at Lairds.
"I'll definitely be looking to use my past experience. I've been in the Counties before with St Helens Town, so I'm sure that will be a big plus, as well as my time at Prescot and of course Rainhill, which was really the catalyst for me to take this position as it saw me grow and establish myself as a manager.
"I've learned from my mistakes, and I've made a few but I can now iron them out and bring all the good things to Lairds.
"I've also had a six month break since I left Rainhill around Christmas time. I didn't want to rush into anything which allowed me to carry on with some of my work with Bolton Wanderers. I've bided my time and I feel refreshed and ready to go."
The new manager says that he will be seeking the opportunity to hold discussions with last season's squad which reached the Play-Off Final and the LWC Drinks Cup Final, with a view to retaining the services of as many as possible.
"I think that's my big message, you can't fix what isn't broke, and the squad did superbly last year, so I'd love them to stay and give me a chance to put my vision across to them. It's been a whirlwind few days, but my first priority is to speak to the current squad as we want them to stay and build from their success.
"That's vital for consistency, and it'd be great to have the chance to work with an already successful squad. We all know that football is football and a few will inevitably move on, but hopefully the majority will stay.
"I always want to blend youth and experience, because with youth comes desire, but at the same time you can't beat some experience to help the young lads. That combination is vital at this level, and it helps you to achieve what you want in terms of game management, which will be huge in this league.
"I don't so much have a strategy in terms of recruiting youth or recruiting experience, but one thing I can say is that youth will always get a chance to shine. I've been very brave when it comes to young lads, because we do want that blend."
Burton outlined some of his key footballing beliefs, but also insisted that he possesses the required flexibility to give Lairds maximum opportunity to take the points from all their matches.
"Energy is massive for me right across the pitch because with that comes desire. I like to get the ball down and play, and we hope to provide entertaining football to the fans. Energy and pressing high without the ball are big for me because the sooner we have that ball back under our control the better.
"But our philosophy will also change from game to game depending on who we're playing and what's riding on it."
Going into the pre-season period, the boss believes that placing an emphasis on playing football matches will be crucial to allow him to give players the chance to impress.
"We're probably going to be playing a few more games than normal to see players and give them opportunities. It will be different because it won't be old school hard running, it will be short, sharp and effective to see the players in action.
"It's different to the pre-season I would have liked had I have been in the job for a while, but I think it's the right thing to do at the moment."
Lairds' fanbase went from strength to strength last season, and Burton issued a rallying call for the people of the Wirral to come and back the Cammells.
"Absolutely, the fans will have a huge role to play, so it's imperative for me to bring results and entertainment to keep them happy. We saw last season as we got more successful more people came through the turnstile, and I know I have a part to play to continue that trend.
"I want to stress that we need them through the turnstile to come and see what we're trying to do.
"Non-league attendances are at a record high, and we've seen lots of clubs around our area have very high gates. Lairds is a community club, a family club, so we want to compete with those clubs and get as many people coming to watch us as possible.
"That will motivate me to get results and provide entertainment, knowing that people are paying their hard earned money to come and watch us."
In terms of his ambitions for the 2018/19 Hallmark Security League First Division South campaign, Burton highlighted the impact that the re-structuring of the League will have, and believes in taking things step by step.
"I think we, like everyone else, are going into the unknown because there's been such a big transformation with the First Division being divided North and South, and we will set goals but we'll do it in stages.
"I'd love to come out with a bold statement, but at present we haven't got a long-term goal as such, and that's because I don't want put pressure on everyone, especially the players, to achieve it.
"We're just going to take it in digestible chunks, and then once the fixtures are out, we'll start setting some realistic objectives and look to start building some momentum.
"Once we're settled and have got some continuity, I'll be in a position to come out and say what we want to achieve this season, but until then we just want to build momentum because that can take you far."
Phil brings in as assistant managers Karl Connolly (who made over 400 Football League appearances as striker for Wrexham, Queens Park Rangers and Swansea City) and Ian Hayes, Adam James as first team coach, Adam Daniels as strength and conditioning consultant and Adam Young as physio.
An exciting time ahead for the club!
Phil (left) is pictured below holding the club scarf with Ian Hayes (right) after being welcomed to the ground by the committee last week.