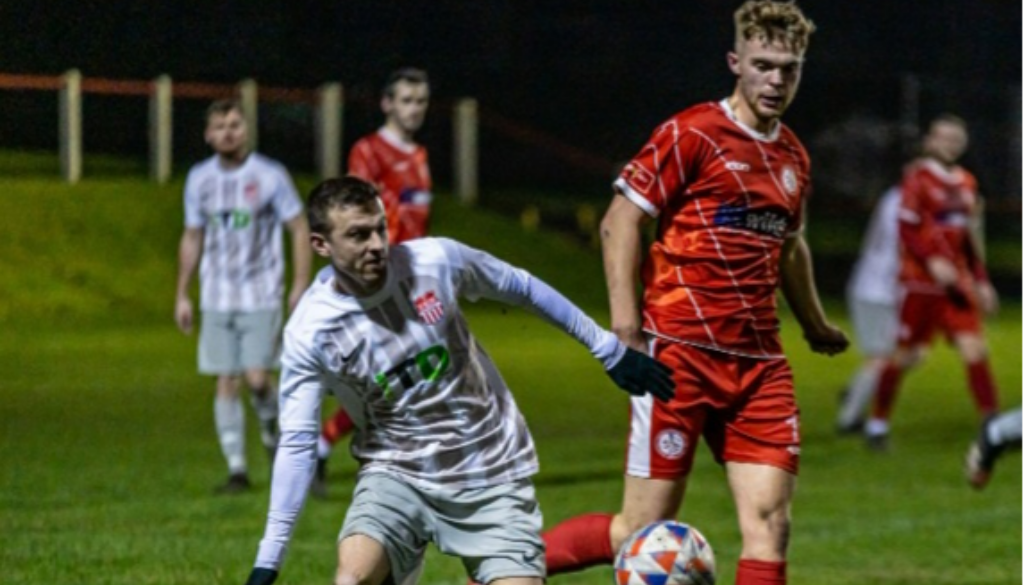 The Rapid Rise of FC St. Helens Rumbles On - feature article
Thu 9th February 2023 | FC St Helens
By Jay Cooper
A decade ago, FC St. Helens as a club was a simple pipe dream in the minds of a few disconcerted individuals involved with the St. Helen's Town FC reserves side. Steve Leather, who had been coach of the juniors' side since 2006, had left in late 2012, right around the time that a lot of the players who he had been coaching were starting to break into adult football. So his story goes, "some of those players were asking 'what are we doing next?' And some of the ex-players who I ran with at Town were telling me that things weren't happy there". It seems that these happenings had put a ticking clock in place for what would essentially become a secession from St. Helens Town into something new – a new club.
Explaining the entire process of establishing a grassroots football club from scratch would take far too long to do for this article, but it was at this point, with enough individuals also voicing their discontentment at Town, that this idea of a new brand had the manpower to get it done, and there was former juniors' coach Steve Leather at its heart. "It was born from that point, really – we wanted to create our own brand that concentrated on the talent that was available in the immediate area of St. Helens. That was definitely my focus."
It would take until 2014, but the work was finally completed by that time, and FC St. Helens was born. When talking about their own club history on their website, they say that "we place a strong emphasis on developing young players from our town and giving them the opportunity to represent St. Helens - making better people as well as better players." Way to stick to your word, Steve.
Fast forward to a year ago, and FC St. Helens were one of the names in quite a fight for promotion from the Cheshire League, with Steve as club secretary. Had this been the 2020/21 season, there may not have been quite that fight. FC St. Helens were running away with the Cheshire League in that season, but, with the world still reeling from the effects of the virus that shall not be named, the curtain came down early on the season.
For a relatively new club still trying to find their feet within the English football pyramid, two consecutive seasons being brought to a premature end by circumstances beyond their control could very easily have been a death knell, but FC held their heads up high going into 2021/22 and won the league anyway – no force or God was going to stop them at the second attempt.
Perhaps it was the cherry on the cake that whilst FC St. Helens – the splinter club, remember – were taking their well-earned place in the NWCFL First Division North for the 2022/23 campaign, it would be their former cohorts over at St Helens Town that would make way for them. Town were relegated from the NWCFL First Division North in the 2021/22 season, finishing bottom of the table, and are playing this season in the Liverpool County Premier League.
There are two key factors that Steve identified as being vital to the successes that FC St. Helens have enjoyed so far. The first one of these was the element of togetherness that the team possesses. "We've built our club on an ethos of togetherness, and we've kept to that. We have players playing week in week out now who were playing in our very first game as a club in the lower West Cheshire Leagues. We are very well organised, we always seem to rise to challenge when we have our backs against the wall, and now these players have gotten us to such a level that we're almost struggling to keep up, admin-wise, to the progress we make on the pitch, which, don't get me wrong, is a nice problem to have."
The second key factor is that Steve highlighted was stability. "I'm a big believer in stability, on and off the field. I think that if you've got a good harmony, ethos and backbone, then anything can happen. I'm not too naïve, I've played at this level before, and I know that even though we've had such a good season this season, that doesn't mean that we're going to have a good season next season. We'll have to approach that as a new challenge, and it's all about just building on what we have on a week-by-week basis."
This story has an air of the rise of AFC Wimbledon about it - those unhappy with the direction of the parent club went away and made their own as a means to represent the area as they saw fit. When the old Wimbledon FC became MK Dons, AFC Wimbledon was formed and eventually caught up to their rivals into the football League One for the 2016/17 season. In the 2017/18 season, MK Dons were relegated whereas AFC Wimbledon stood firm and retained their place in the league.
What differs between AFC Wimbledon and FC St. Helen's, however, is Wimbledon never climbed any higher than that, whereas FC St. Helens have enough ambition for the whole of the North West, let alone just their home area. At the time of writing, they're currently the best of the rest. They're currently sitting pretty in 6th place, a mere 2 points away from the play-offs, and with a healthy goal difference of +20 – that's 20 better off than 7th placed Daisy Hill.
It's not just group achievements that are currently being celebrated over at the Windleshaw Sports Ground either. Goalkeeper Joe Mason was recently awarded with the NWCFL First Division North Goalkeeper of the Month award for October last year. Mason helped his side to a 6-game unbeaten run, during which he kept 2 clean sheets. Add to that the fact he is only 17 years of age, which makes me, who has just turned 21, almost feel a little bit ill with envy.
One of the other key figures at the club, alongside Steve, is manager Oliver MacBryde, and he was full of nothing but praise for his goalkeeper. "He's an incredible talent, great attitude, we love having him around the, great distribution, great handling, and technically probably the best goalkeeper I've ever seen at this level. Not the mention the fact that he's still in college - it's absolutely frightening." I can't help but agree with that last part.
For newly promoted clubs at any level, in Steve's own words, "every day is challenging". League matches in general, let alone dark, cold midweek nights in winter, are hurdles to overcome. FC St Helens have already managed many of these challenges so far this season, and they've been able to keep their heads up on those occasions when they haven't. However, for a team just outside the play-offs to face a side who've spent the majority of the entire season in a commanding position within those play-off places is quite daunting. Add to that, the match being scheduled for a crisp Tuesday night in February, away from home. Enter, Chadderton, and here we have a match worth watching.
Both teams went into this clash at the Falcon Fire Stadium with a point to prove, and both teams would come away from this clash at the Falcon Fire Stadium with a point extra in the league. Sidenote; the Falcon Fire Stadium might be the best name for a football ground that there has ever been – if you can find a better one, go nuts.
In the first half of this encounter, Joe Mason was perhaps the most important man on the pitch for FC St. Helens, making a handful of crucial saves from 1-on-1 situations to preserve his clean sheet until the break at least. However, it wasn't all Chadderton. FC looked very dangerous when stringing passes together down the right flank and weren't scared to test Chadderton goalkeeper Joe Oldham with a couple of surprise strikes from range throughout the first 45. By half time, it was still goalless. In addition to this, the general opinion that both sides had of the referee at this time was that he had been inconsistent at best.
Those feelings boiled over a little in the early stages of the second half, with a few players from both sides lucky to escape a caution for dissent when they showed their distaste for the official's decisions. However, the whole game would eventually pass by without a single yellow card being given out. The same cannot be said for goals, or penalties, and there's a reason why I haven't grouped those two happenings into one.
In a mad few minutes between 70 and 75 on the clock, Chadderton were first awarded a spot kick after Kain Dean was bundled over in the area. Captain Jordan Schofield stepped up to take it, and blazed it over the top of the bar. Then, 2 minutes later, FC went up the other end and saw their counter attack into the area halted by a trip – penalty given. It was the turn of captain Liam Houghton to try and do what his opposite number couldn't, but his effort crashed off the base of the post after Oldham dived the wrong way.
It remained 0-0 for a further 6 minutes or so, when a looping ball from Chadderton's Adam Dale found Ethan Sutcliffe in behind the FC defence, and he coolly converted the chance into the bottom right corner from the left side of the box. Chaddy's lead would last until just before the electronic board went up to signal how much added time there would be, when they shot themselves in the foot in a big way.
After players from either side collided with one another, Schofield sent the ball looping back to his own goalkeeper. Oldham let the ball wriggle out of his grasp and it slowly and sadly bounced into the net for an FC equaliser. A crucial one, too, as the game would go on to finish 1-1. For all the success that FC St. Helen's have had since their formation a few years ago, on this night, they had lady luck to thank.
After the game, manager MacBryde concurred with that sentiment. "I think there's always an element of luck in football – sometimes it goes for you, sometimes it doesn't. You could maybe argue about the penalty decisions, too, but that's just football, isn't it? It's swings and roundabouts, really. At the start of the season, they weren't going in for us, those kind of errors, but we're just thankful tonight that it did.
"I'm happy overall. I think the lads worked hard, and it's obviously a tough place to come – it's always tough coming away from home in this league, anyway. They're always up there, Chadderton, so we're pleased to come away with a point, but watching the way the game unfolded at the end, there were times where maybe we could've gotten away with all 3 points. They could probably say the same, as well."
As mentioned earlier in this article, FC St. Helens are currently breathing right down the necks of some of the sides in the First Division North play-off places. Given that we're in February, it might seem natural to have one eye glancing towards the prospect of what would be a second successive promotion for the club. However, neither Steve nor Oliver are prioritising the club's eventual finish this season right now.
When I asked Steve, he told me that "it's not my job to think about it – that's what the manager and the team are there for. They will deliver what they can, and we, as a club, have to mould ourselves around their success. We're ready for that challenge, though, and if we did go up, which would be amazing, we will meet that challenge. However, if we don't go up – what a season we've still had. So, we can't grumble".
As for Oliver, he was insistent that the plan is to "take it game by game. We play the opposition that's in front of us and try and get what we can from every game. We can have a look at the table with 4 or 5 games to go and we'll see where we are. The ambition of the club from the start of the season was to try and establish ourselves in the league, and we've done well so far, but there's a long way to go. We need to keep plugging away, training hard and enjoying the ride – we'll see where it takes us."
Whether those involved at the club want to think too hard about it or not, it's fair to say that with only a couple of months left of the season, FC St. Helens are certainly a part of the race for the play-offs that is currently taking place in the First Division North. Of the 5 teams currently above them in the league, they played one of them this week, in Chadderton, and they are still yet to play the other 4 for a second time this season. Whilst every game matters at this point, it will be those games in particular that will truly determine if FC St. Helens are ready to make their next big leap as a club.
Image credit: Phill Smith Photography, @phillsmithphoto - Twitter