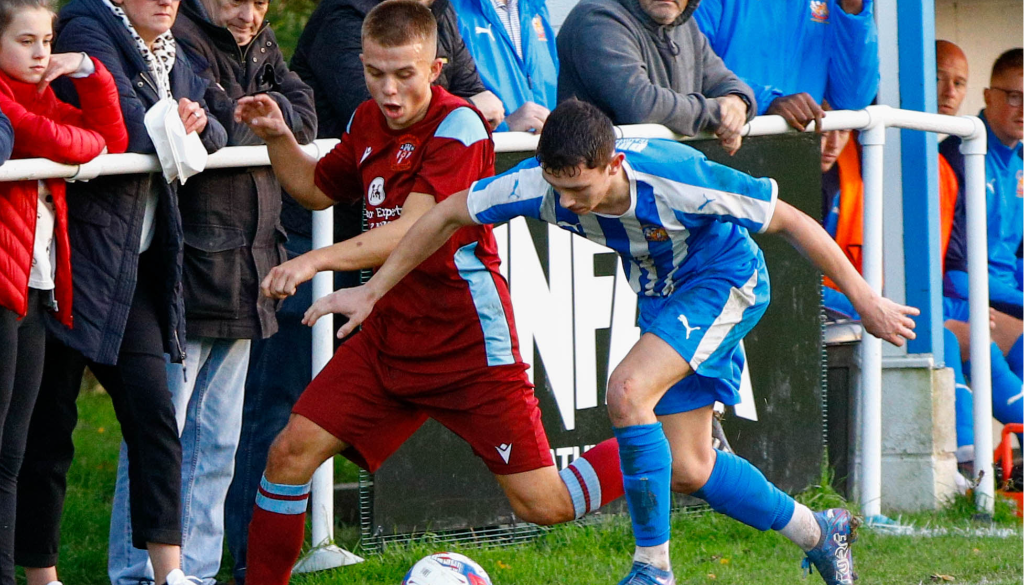 First Division South Player of the Year
Tue 7th June 2022 | League Awards
By Martin Fallon
The Player of the Season for the NWCFL First Division South in 2021/22 is Brandon Newell of Abbey Hulton United, who at just 17-years old becomes the joint youngest ever person to win this award.
Brandon started the season at Rocester, who were new to the league having been laterally moved from the Midland League. Despite his club struggling in that first month, Brandon excelled and of his six games played, he put in Man-of-the-Match performances against Cheadle Town, Stafford Town and Stockport Town.
His performances brought him to the attention of fellow league club Abbey Hulton, and after a seven day notice was placed, Brandon moved to the Stoke-on-Trent based side.
He went on to make 32 appearances for Hulton, 27 of which were in the league. He also scored one goal, that ironically coming against his old side Rocester!
Performance wise though he was solid, notching another nine Man-of-the-Match awards throughout the season, a ratio of one every three games. Most impressive is that he claimed at least one in every month of the season!
These were against Cheadle Heath Nomads (September), Ellesmere Rangers (October), Wythenshawe Amateurs (November), Stockport Town (December), Alsager Town (January), Ellesmere Rangers again (February), Wythenshawe Amateurs and Sandbach United (March) and FC Isle of Man (April).
When we contacted him to congratulate him on his award, he was quick to appreciate those around him for his success saying, "It is a great achievement to win this award! I wouldn't have been able to do it without my teammates and coaches at Abbey Hulton FC, pushing me on and continually having faith in me. I've enjoyed every second of my football this season and I am really looking forward to the next.
"Football is my life and I can't wait for next season to start and get going again. I am always learning week by week, and playing with and against better players can only me progress as a player which makes me very happy. Once again thanks for this award, I am delighted for this award in what is my first season in the North West Counties Football League".
Congratulations again, Brandon!