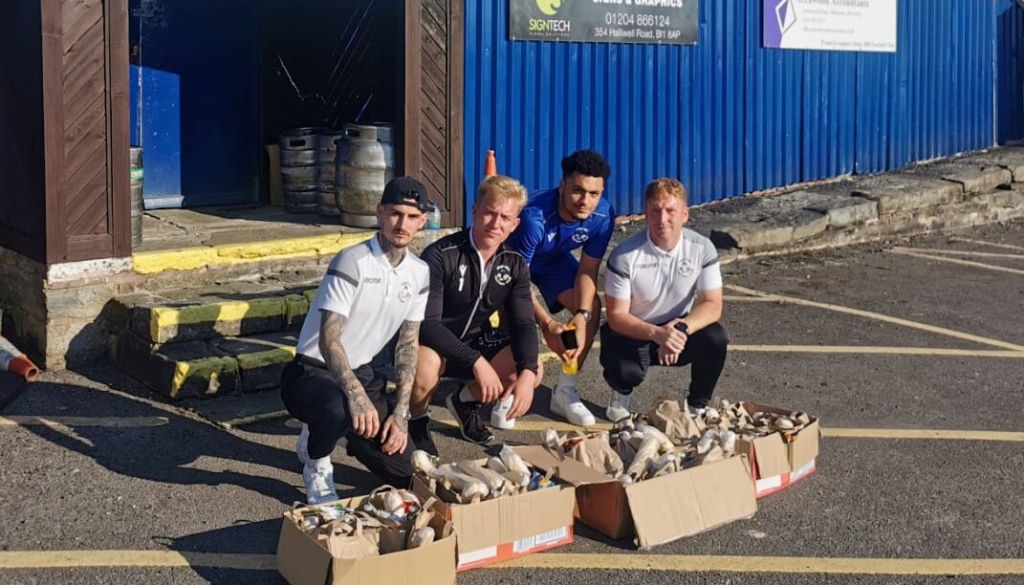 Daisy Hill Players Support Local Foodbank
Mon 26th July 2021 | Daisy Hill
By Ian Templeman
Members of Daisy Hill FC's first team squad spent last Saturday evening handing out food parcels at the Homeless Aid Bolton food bank in Bolton town centre. The visit was organised by the first team's Assistant Manager Lee Hill, who has supported the Food Bank in the past through his business FitPRO Training Academy. The players gave up their Saturday night to help with the community initiative to support the operation at the HAB facility and found the experience as an opportunity for reflection, whilst also providing much needed support and manpower to a vital source of support for the Bolton Community.
"With my company having established links with the Food Bank, I thought it would be great to bring that same support over to Daisy Hill and get the club involved too", said Lee.
"I had some surplus food available and asked some of the team to help me create food parcels, and give up their time to come down and help distribute the food parcels. Many of the squad volunteered, but we didn't want to take too many as it is important to maintain the dignity of the service users, and we didn't want to appear imposing. In the end, five of us went down with 40 food parcels and spent an hour giving out food and speaking to the service users.
"It was great for the lads to experience this and they were truly touched by the work of the volunteers and the service users themselves. They have all asked if they can do it again sometime soon, and many of the other team members have also asked if they can be involved the next time we do it.
"I think it's great for the lads and the club to help out in the community where we can. Even if we play a small part in helping those less fortunate, it's those collective efforts that add up and make a huge difference.
"I am extremely proud of the club and the lads for helping out and giving up their time on a Saturday evening to serve food to the people who need it".
Lee Hill (far right) is pictured with Daisy Hill players Hensley Mills, Cameron Allison and Hayden Ravenscroft outside the club with some of the food they took on their visit.