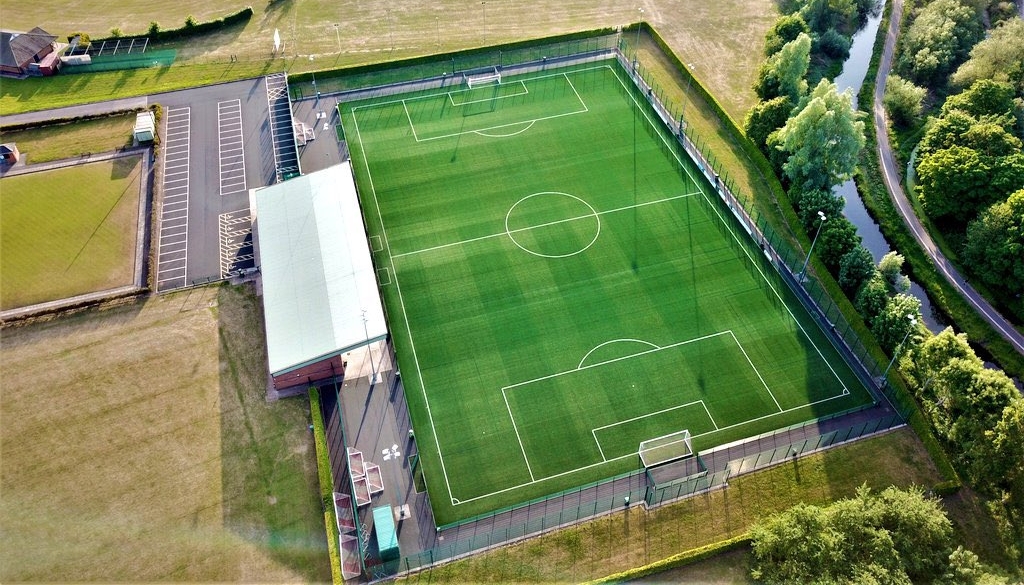 Stafford Town Ready for new challenges
Fri 4th June 2021 | General
By Gary Langley
Continuing our series of "Let's Meet...." articles, we have this week caught up with Stafford Town Chairman, Paul Beedell whom has told us about his clubs hopes as the NWCFL 2021-22 season approaches. It's safe to say that the club were quite surprised to be laterally moved from the Midlands League but they are philosphical about the circumstances and are just looking forward to playing league football again.
Based in Evans Park in Stafford, Town (not to be confused with rivals, Rangers) were founded back in 1976 and initially started out in the Midlands Combination League and then migrated through to the Staffordshire Combination League in the early 1990's. They then entered the Midlands League pyramid where they were successful throught the late 1990's early 00's ending up in the Midlands Football League Division one for a good length of time. After a short season-long return to the Staffs League for a season folllowing a re-organisation of the structure, the club returned to the Midlands League Division One for the 2019-20 season.
Following the conclusion of another reorganisation of the structure, the club have found themselves laterally across Step Six to the NWCFL Division One South, where they will be joined by neighbours and rivals, Brocton.
Paul kindly gave us an initial overview on Stafford Town Football Club....
"We are a Community Club based in Stafford and we are a club who have a number of teams across various age groups and abilities. We have 30 teams ranging from Boys and Girls teams through to Youth sides, open age mens teams and Disability and Inclusion teams who play in the Staffordshire League system. We aren't stopping there either, we are looking to create an Under 21's side to bridge the gap from the Under 18's and we give every opportunity for people who want to play football to get involved. It's all good!"
"We were originally set up back in 1976 by a gentlemant called Gordon Evans who built this club up from the ground. Ive been involved in the club since I moved into the area in 2002 and have coached at various levels through the youth ranks. When Gordon became ill i stepped up as acting Chairman and later took the role permanently but we are all club people here, Gordon also received the British Empire Medal for his services to the Community and we havent lost sight of that aim. We got through the 3G pitch project through which opened up the ability to stage football through the whole week and whilst a number of our teams play on it regularly, we host teams from other clubs who use our facility."
"As far as rivalries go, Brocton our the main rivals to Town, we share the same postcode! The games between us are always great, everyone committed and we look forward to being able to continue that rivalry. As a Club, we are continuing to develop on and off the park, we have continued to strive to be more competitive, we have a Gym Facility at the ground now as well as Volunteer Sports therapists. Football isn't just about the team thats on the park, without the support team and volunteer administrators behind it, it just wouldn't work. "
Did the latteral move come as a surprise to the club or did you get wind of it?
"To be honest it wasn't really a surprise, it had been mooted previously and we had been latterally moved before which had sent us back into the Staffordshire League. We got back from that but it wasn't unexpected. It is what it is, you have to play teams X amount of times over a season to see where you stand and after the 18 months everyone has just had, we'll be happy to get playing football again, to play some new teams to us and to make new friends in the process."
What do you know about the North West Counties League then and do you fancy your chances in it? We have had teams come along from different regions and do quite well with us?
I personally don't know enough about it yet, but i'm learning quickly! We have members at our club who have been able to tell us about the srength of the league and are familiar with some of the clubs in it, like your Eccleshall's, Ellesmere's and we are familiar with some of the players who have played at a number of the clubs in the area. Our Club Secretary, Dave Howard goes all over tha place and watches football all around the Country, he has an understanding of the structure of the league and we are looking forward to getting up and running. Callum Bailey here, he is in his 70's he knows a lot of the clubs we will be coming up against, he has a great football knowledge. We will be doing our homework on the clubs, that's began already. We could benefit with the change of operation and the element of the unknown, however I will be setting a target for the club and if we benefit, then great.
Are there concerns about your location in respect to League borders and possibly yo-yoing?
Not really as borders constantly change, the move for us is a different challenge and it doesn't faze us. The travelling for us is a concern, however we always try and see the positive in something. You look at the likes of Eccleshall who have been a stalwarts of the NWCFL for years, they've dealt with it, Ellesmere don't seem to have had an issue and when we look at trying to travel to the likes of Coventry, Wolverhampton and other areas, that could take us just as long as getting to the likes of Cammell Laird 1907 which looks like our longest journey. Midweek games could be a challenge but for all the reasons stated above, we will deal with them. The change of area could actually attract more through the gate as people will see some derby gaes against clubs they are not used to seeing, we have a media tie-in with a local radio station now as well. People will be very welcome at the club, they will see a good matchday at a nice facility with a friendly welcome and a kiosk that will do you a decent brew.
Tell us about your gaffers?
Steve Barrow and Dom Heath are joint Managers at the club. I brought them in to freshen things up and to assist with our overall aim to become more competitive. I have known them both for some time and they had been at the club previously. I like their style, they work well together and they bring a lot of experience to the role, between them they count clubs like Sporting Khalsa, Bridgenorth, Wolverhampton Casuals on their CV.
They've always done well, they are good tactically and operate a good overall setup on the coaching side with their team of staff around them. They have set up a player pathway and regularly bring in players from the U18's to assist with development and to bring something different to the first team when they deem a player ready. They are passionate about football and are keen to progress the team and the players within.
It's all sounding a very positive set up, are there any clubs that you are looking forward to visiting, or perhaps not as the case may be?
It's all about playing football and winning games for us. The easiest for us to get to is Brocton, it's a local derby and there is always a good crowd in for our games against each other. Thething for us is that we are not just a team on the periphary that has been moved, there are others near us that we are familiar with, so we are not going into it completely blind. We are looking forward to going head to head with the likes of Eccleshall in a competitive League game but to be honest, every game brings something new. Every club we visit we will enjoy visiting and showcasing what we can do. We are looking forward to meeting folk at other clubs, like ourselves who volunteer and appreciate the sport that we all get involved in week in- week out. Likewise, everyone will be very welcome at our place and we look forward to playing our part in a very competitive division.
A big thank you to Paul Beedell for his time and we wish him and Stafford Town the best of luck for the new season.