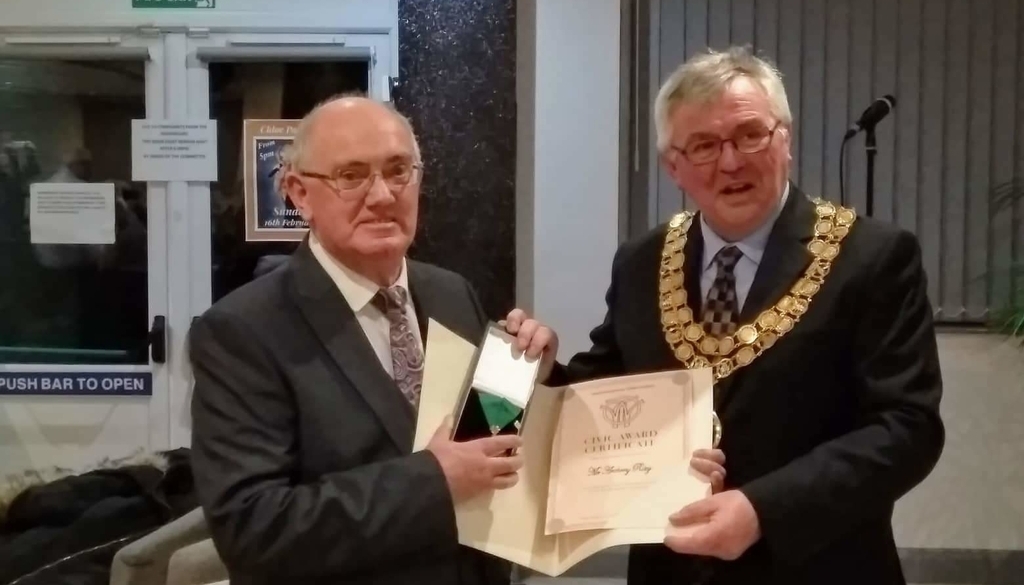 Long serving Daisy Hill committee member Tony Riley has been recognised by Westhoughton Town Council
Tue 11th February 2020 | Daisy Hill
By Craig Kendall
Long-serving Daisy Hill committee member Tony Riley has been recognised by Westhoughton Town Council for his voluntary work in local grassroots football.
At an event held at the Westhoughton Sports and Social Club, Tony was presented with a Westhoughton Civic Award and the Harold Daniels Memorial Trophy by Westhoughton Town Council Mayor David Wilkinson.
Tony's voluntary work in grassroots sport in the local community spans a period of more than 50 years and includes over 20 years of service at Daisy Hill FC.
Tony said: "You don't really expect to get an award for something that you have been doing all your life and as a hobby, and it was nice to receive it when there were so many local people at the event that I knew.
"A good number of people from Daisy Hill FC came to support me, and there were also some lads who played for the clubs I've been involved with down the years.
"My daughter and son-in-law came over from the Isle of Man, and my grandson and his wife came down from Seaham in the North East too.
"It was a good night, and one I'll remember for a long time".
Tony is pictured receiving his award from Westhoughton Town Council Mayor David Wilkinson.
Photo courtesy of Sean Gallagher.