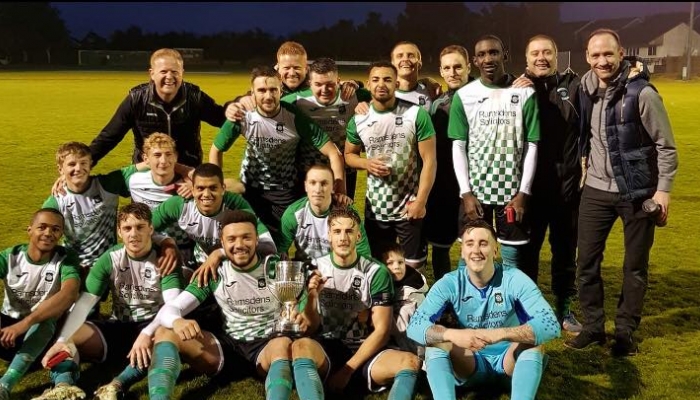 Connor wants to be more than an "also-ran"' in Golcar's inaugural season
Fri 21st June 2019 | General
By Craig Kendall
New North West Counties First Division North side Golcar United will compete for the first time in their 115 years history at Step 6 in August after winning the West Riding County Amateur League Premier Division by seven points.
An impressive 61 points from 22 games alongside 105 goals left joint manager Ashley Connor delighted as he opened up ahead of pre-season, "Overall we were really pleased with what we achieved last season. To be honest we won the league at a canter really; our lads were superb throughout the season and this shows when you look at the final league table.
"We also won the Huddersfield Challenge Cup which we thoroughly deserved. We only conceded two and scored 19 goals in the Cup run which consisted of five games. To do the double two seasons running at Golcar United is a great achievement and one everyone at the club is very proud of.
"Our biggest achievement though during our time at the club is to gain promotion to the North West Counties League and I'd like to thank everyone that contributed to making this possible. 12 months ago we decided to have a good push at trying to gain promotion and the improvements we've made to the facilities is unbelievable, people visit the ground and can't believe the transformation.
"The club is a great place to be at the moment and we're all looking forward to the new season starting."
The 36-year old has been at the club for a number of years and knows the task ahead won't be easy, "We're looking forward to testing ourselves at North West Counties standard. A lot of hard work has gone in to getting us to this standard and we're looking to keep improving. We're starting pre-season on Monday 24th June and our aim is to get a super fit team ready for the start of the season.
"We want to be competitive next season and I assure you that we'll be very organised and raring to go come the start of the season. We have managed to retain our squad from last season and we've recruited some very good experienced players which we believe will fit right in. I think we've now assembled a squad which will allow us to be very competitive next season."
Looking towards the future Connor added, "Our aspirations are to keep building on what we've started at Golcar United on and off the pitch. After gaining promotion we don't just want to make the numbers up, we want to be challenging for honours. The club is currently in a great place with a lot of good people involved. The main thing is that we make the club sustainable at this standard though.
"Unfortunately during the first season we won't be entered in the FA vase but this is something we're looking forward to entering and possibly the FA cup in our second season. At the moment there is a great community spirit around the club where a lot of local people want to get involved, our aim is to build on this and we hope the people of Golcar can continue."