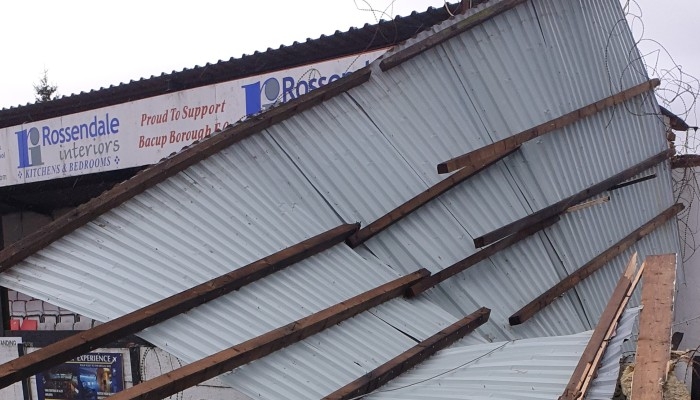 More storm damage at Bacup
Thu 14th March 2019 | Bacup Borough
By Ian Templeman
Bacup Borough are once again counting the cost of storm damage at the Brian Boys West View Stadium.
After suffering extensive damage from Storm Eric a few weeks ago, interim repairs were carried out to get the ground to the point where games could be staged.
However, on Tuesday night, more damage was caused due to Storm Gareth, meaning that more emergency repair work is being undertaken.
Bacup Borough manager Brent Peters has given us the following update.
"The three games we had following Storm Eric managed to go ahead, in reality they should not have done because we had no electricity in the home team dressing room. We slummed it, and luckily we had portable training lights which we used for light,
"We explored every feasible avenue in trying to obtain a portable changing block only to find out it would be at least ten days before the likes of Portakabin and Garic could get one to us, then they would need to be tapped into our services.
"Also given our geographical location the access to place one would not be straight forward, even to the point that they may have to be dropped on Cowtoot Lane in front of the mural, had we have gone down this route,
"The three games which were back to back games we would have had to cancel, that would leave us with no income, also it would have disrupted the league and fixtures. Not withstanding the cost of all of this, even given that Portakabin had agreed to provide one at a vastly reduced cost, there was still a serious amount of rent to pay.
"Equally we had to pay for transport to bring the cabin to site and that also was not cheap.
"We had the site inspected with reputable building companies who were all of the same opinion that the building needed dropping and re structuring because of the damage it had done, with all of the will in the world this was going to be at least four to six weeks work, again affecting our fixtures,
"So as we are almost at the end of the season, it made more sense to conduct a quick fix in order to hopefully see us through until the end of the season, this we did with the thanks of a reputable company from Trawden to whom provided the man power and a Builders Merchants from Burnley providing the materials.
"We also spoke to the various organisations such as the Lancashire Football Association, Football Foundation, Rossendale Council. There is help from funding pots from those organisations with the exception of our own council, but everything has a procedure which must be followed.
"Anyone who has applied for funding will realise that this itself can be up to six weeks and that is quick, and included in these applications it makes reference that no work to be started until grants have been passed and agreed, so once again it is not a quick fix, although we have set the procedure in motion.
"Now, on Tuesday night Storm Gareth hit the ground, but this time it basically finished off what Storm Eric had started.
"Storm Eric only affected the home team part of the changing block, but Storm Gareth ripped through the rest of the roof, leaving not only the home team changing room, but the physio room, officials room and away team changing rooms completely open to the weather.
"The fact it has been constant heavy rain means it has now dropped the ceilings in to the floor. In addition, the entire roof has lodged itself between the main stand and the pitch. In my opinion getting all of that removed will be our biggest task.
"All efforts will be made to ensure minimal, if any disruption to games, I think we have four and a Semi Final. Saturday may come too quickly, it is premature to say at the moment, but if it is, I certainly don't think it will have any bearing on the following Saturday,
"We have materials to put a temporary roof over the changing rooms due to arrive Thursday, but the biggest task is breaking the roof in its entirety down and getting it moved.
"Once that has gone, putting a temporary roof on will not pose an issue, the task is the roof being where it is.
"Every effort will be made for Saturday, and I have told my players the game is on, until officially off".
The club have set up a Just Giving page, to collect donations for covering the cost of repairs, which can be found by clicking here.