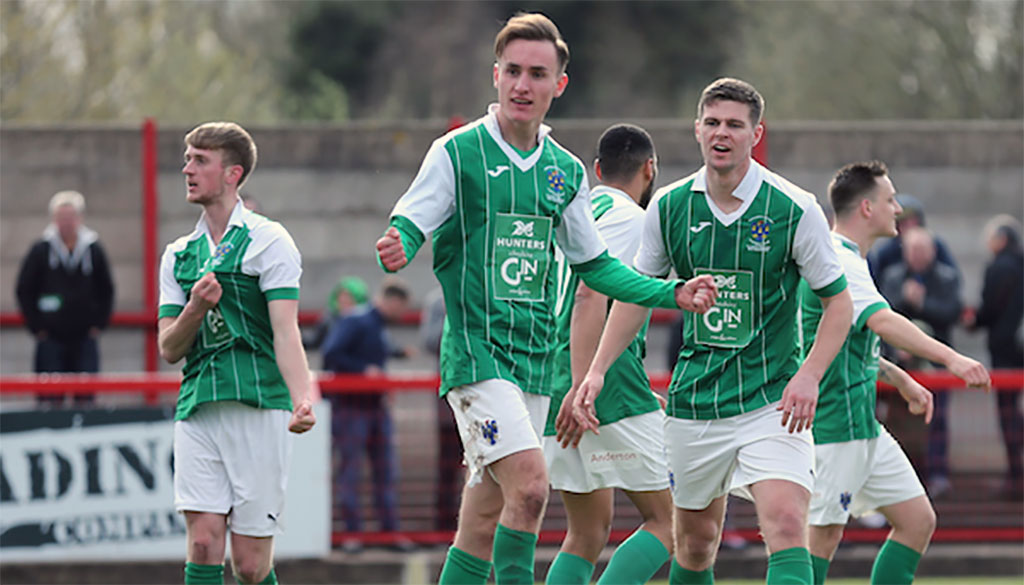 1000 up for Steve
Thu 7th March 2019 | Northwich Victoria
By Ian Templeman
Northwich Victoria manager Steve Wilkes reaches a notable milestone on Sunday when he celebrates his 1000th game as a manager.
Vics' game against Squires Gate on Sunday will see Steve achieve the landmark, just a few weeks short of two years since he celebrated his 900th competitive game as a manager, when he led Padiham in a game against New Mills at the end of March 2017.
Back then, we featured Steve's longevity as a manager in an article on the league website, and it's worth highlighting again that if it hadn't been for some words of encouragement from former England manager Sam Allardyce, Steve might never have taken his first steps into management.
As a player, Steve began his career as a professional at Wigan Athletic before moving to Preston North End, and he then dropped into non-league football after suffering a series of injuries.
The opportunity to take his first step into management came at the age of 29, when he was playing at Darwen.
"I joined Darwen in 1997 and was captain, and then manager Ian McGarry was sacked at the end of the season", said Steve.
"The Chairman at the time, Kath Marah, asked me if I wanted the job and at first I said 'no' because I was only 29 and wasn't sure if it was for me.
"I had never contemplated going into management, it was never on my radar at all, so I spoke to Sam Allardyce, who I was friendly with as we had played together at Preston, and also to Roy Tunks who was the goalkeeper when I was there, and later became assistant manager at Wigan Athletic.
"They were the first people that I rang for advice, and they both said the same - give it a try, if you don't like it and aren't cut out for it, you will know within about six weeks.
"When I was offered the job at Darwen, the reason I wasn't sure about it was because - and people who read this might not believe it - I was a very shy lad.
"I couldn't speak in public, I couldn't stand in front of people and talk.
"For the first twelve months or so I was at Darwen, I used to have a script. I used to sit at work on a Saturday morning writing down what I would say to the players in the dressing room that afternoon.
"But you eventually get experience and confidence".
Steve spent seven years as Darwen player/manager, before moving to Padiham, then had spells at Runcorn Linnets and Ashton Athletic before moving back to Padiham in 2013.
He left Padiham in 2017 before taking over as manager at Vics, and he says that his spell in charge at Vics is right up there along with his best managerial experiences.
"It would be easy for me to say the last six or seven months are some of the best I have had in management, but I think that is probably true", said Steve.
"Obviously we have not won anything yet, but crowds have started coming back through the doors and I have probably got one of the best squads I have ever worked with at the moment.
"The club has given me my mojo back".
Looking back over his managerial career, Steve has no shortage of memories and highlights to recall.
"I will always remember my first game as a manager with Darwen, down at Congleton, in 1997. Going through the years, at Darwen we got to the Lancashire Challenge Cup final in 1999 when we lost to Morecambe on penalties, so that's up there, and obviously winning the league at Padiham is too.
"I was manager at Runcorn Linnets when they finally returned home, and the first home game against Colne, when there were more than a thousand on.
"Coming up to date we had the victory over Sholing a few weeks ago which has set us up for an FA Vase semi final.
"I've won leagues, but that win against Sholing was the highlight of my career as a manager, and hopefully there is a bigger highlight still to come in a couple of weeks time.
"I've met so many people in the game as well, like Brent Peters at Bacup who I have locked horns with for years.
"Brett Ormerod played for me, Gareth Seddon did too, and there's players maybe not as high profile as those, like Paul Fildes who scored 76 goals in two seasons for me at Padiham, and Ben Allen who scored over 50 in the season we won promotion.
"With opponents, the ones that went on to become better clubs higher up are ones you remember.
"There was Cammell Laird when they first came into the league, Kirkham & Wesham who are now AFC Fylde. FC United and only a few weeks ago when we played Sholing in the Vase, who I thought were a really good strong side.
"There's been some fantastic players too, like Rory Patterson of FC United who went on to play for Northern Ireland, and Anthony Pilkington at Atherton Collieries who went on to play for Cardiff in the Premier League.
"It's been a brilliant 21 years and it's been a fantastic journey".
But although players and opponents have delivered some memorable moments for Steve down the years, he admits it's his friends and family that have made the time so enjoyable for him
"We're having a bit of a celebration after the game on Sunday, and I have invited quite a few ex-players and friends that have played for me and I've worked with, and there are just so many that you can now call friends for life.
"I'm proud of the achievement of reaching a thousand games because there are not many that do that, especially when you have to work as well.
"I must give a massive thanks to my wife Alison and my kids, who have been there all the time, putting up with me on a Saturday when I come home in a foul mood when we have lost.
"Alison stays at home when I go out on a Monday night to watch a game, then maybe training on Tuesday, a game on Wednesday and training again on Thursday.
"So without Alison and the kids I could not have done it. They bring me back down to earth".
So with 1000 games under the belt, how much longer does Steve see himself carrying on?

"I think 2000 would be a long way away, I don't think I will do 2000, I can be fairly sure of that", he said.
"I'm 52 and I've doing this since I was 29 so you never know, but I'm hoping that grandkids will come along at some point and take over Saturday afternoons, although not for a while because I am loving it at the minute. I am enjoying managing now more than I have done for a long time.
"It was so nice at Hanley on Tuesday night, when it absolutely poured down all night, but there were still Vics fans there singing my name.
"It's that sort of thing that makes it all worthwhile".