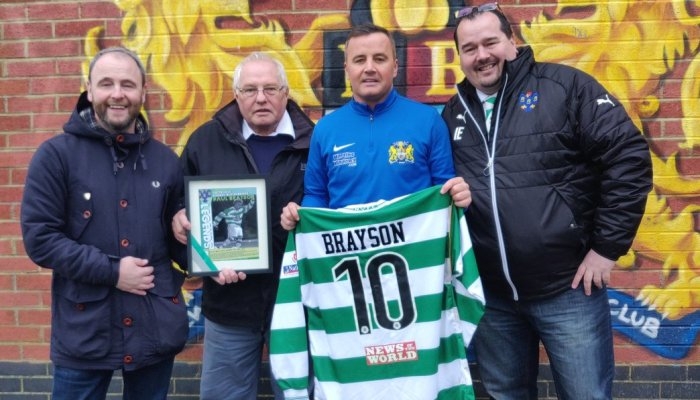 Presentation to Vics legend
Thu 10th January 2019 | Northwich Victoria
By Ian Templeman
Northwich Victoria made a special presentation to former striker Paul Brayson last Saturday - and received an unexpected gift in return.

The former Vics striker is now 41 years old and leading the line for Newcastle Benfield in the Northern League, but is a legend in Vics folklore.

Brayson famously scored a goal in the FA Cup against Woking that clinched an away tie against Sunderland in season 2005-06, and on Saturday he presented his shirt from the Sunderland game to surprised Vics officials, who had already planned to present their former hero with a photo from his time at the club.

Vics Commercial Manager Paul Bazely explained how the afternoon's events unfolded.

"Obviously when the draw was made we knew we would be meeting up with Paul again", he said.
"We have a feature in our match programme where we tell the story of Vics legends from the past, and it so happened we had just featured Paul when the draw paired us with his current club.

"He was a great player for us and a real Vics legend, so I thought it would be a nice idea to give him a framed photo from his time at the club, as the chances are we won't see him again for a long time, if at all.

"So we had that organised, but when we got to the ground Paul made a point of finding Dave Thomas, our Club Secretary, when we arrived and told Dave he had something for us too – and produced the shirt.

"Both Paul and ourselves were all genuinely choked as he handed the shirt over, as it meant a lot to him, and it's a great piece of memorabilia to have.

"We are not sure exactly what we will do with it, but we are certainly not going to be auctioning it off or anything like that to raise funds.

"We will keep it, as it's a fantastic souvenir from the club's rich and illustrious history.

"It just topped off a great day for everyone at the club. Newcastle Benfield are a great non-league club, very friendly, and they have a great set up there.

"Going up there and getting the win as well as the shirt just made it a great day all round for us".

The picture shows left to right: Paul Bazley (Vics Commercial Manager), Brian Turner (Vics Chairman), Paul Brayson and Ian Egerton (Vics Vice-Chairman)