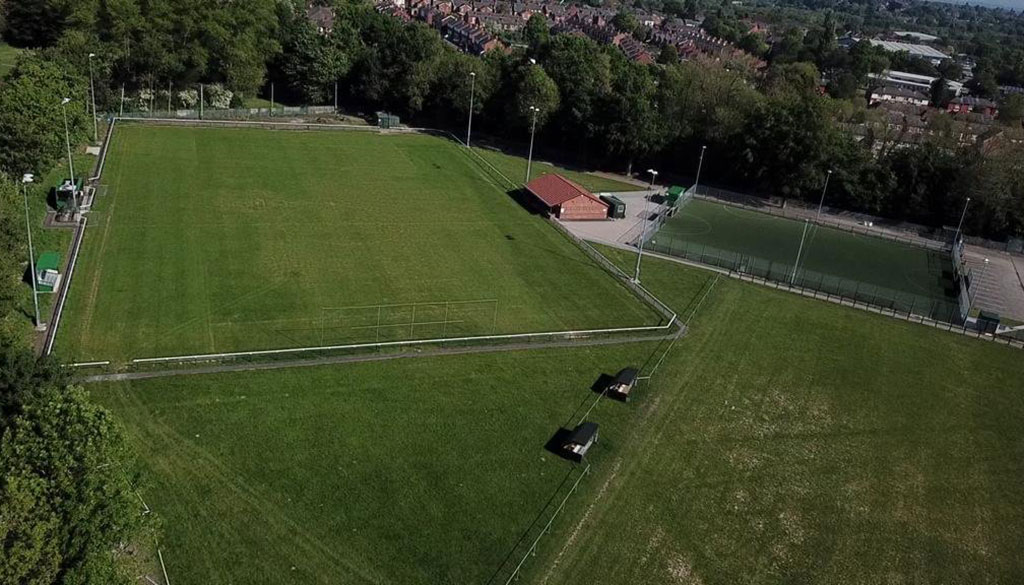 A good start for the Nomads
Wed 5th September 2018 | Cheadle Heath Nomads
By Ian Templeman
Sitting in sixth place in Division One South, with four wins from their opening seven games, it's fair to say that Cheadle Heath Nomads have adjusted well to life in the Hallmark Security League.
Nomads made the step up from the Cheshire League in the summer, and with the club celebrating its' centenary in 2019, there's plenty to be positive about.
On field performances are being matched by regular improvements to the facilities at the Proseal Stadium, with new floodlights in place and two new stands set to be installed in the next few weeks, all contributing to an upbeat atmosphere around the club at the moment
Nomads manager Andy Gray says he is delighted with the way the club's plans have come to fruition so far.
"We started planning last season with the idea that whatever happened, either this season or next season, the plan was always to move up", he said.
"So we had the opportunity to get the foundations in place. It was always going to happen, it was just whether or not we could get a team together to compete.
"We have got a few players who have got three or four years left in them, we have some who are finishing now who are helping our reserves develop, and we have a lot of good young players who are saying 'I can do better than this'. It's a good blend, a good all round mix".
Although he spent time on building a squad, Andy also admits he did his homework prior to the start of the season.
"I know a lot of people around the area, and I did watch a lot of games whenever we were not playing, and we don't have a game on I always found one", said Andy.
"I was involved at Chadderton for a while so I knew a bit about them, and I did a bit of work over at Stockport Town's ground when Woodley Sports were there a few years back. So I had a good idea of what we were coming into.
"We just felt it was an open playing field for everybody. I spoke to one manager last week and he was saying that there are so many new teams coming in he wasn't bothered about who was doing what and where, he was just going to take it as he sees it.
"I think a lot of people have adopted that attitude, and you can see it from the start of the season with everybody beating everybody. I think it is going to be a really close league this year, and that's a good thing".
One feature that many new visitors to the Proseal Stadium will notice this season is the quality of the playing surface, that has had a significant amount of money spent on it in recent years, and Andy believes that playing at home will be a major benefit for his team.
"We know we are good at home, but you look at our pitch and it's like playing on a carpet. If you can't play football at our ground you might as well give up, it's a great pitch.
"The guys at the club have spent a lot of time and effort looking after it pre-season, and we didn't touch it at all, and that's the benefit of having another pitch (at the ground).
"The first ball that was kicked on it was at the first league match, it's superb and it's a great surface to play football on.
"I know other teams might come here and be up for it but we don't mind that. If it means teams want to come here and play that's great. It makes it a good game for spectators and hopefully we can start to encourage more people in on the back of that".
Looking ahead to the rest of the season, Andy's aim is to keep the current momentum going and he is more than satisfied at the way things have gone so far.
"We have had a great start, the players are buying into what we are doing, and I couldn't be more happy to be honest", he said.
"Even the games we've lost, I thought we played well in the majority of them, but it's all a learning curve.
"We set ourselves up to try and play good football, try and be nice and compact and strong, and we are looking for more of the same.
"We are working well as a team, building a squad, and the players just have to keep doing what they have been doing.
"I'm not really looking at league tables right now, I probably won't do that until around December time. But we said at the start we'd like to be mid-table, and that will do us. If we get higher than that great, if we are lower than that, we'll be disappointed".