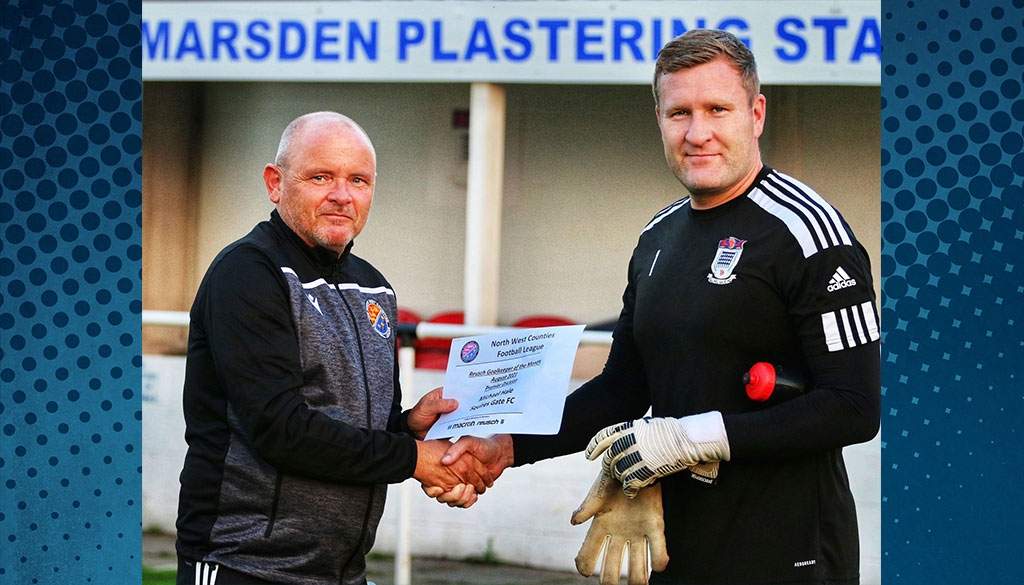 August 2021 Goalkeeper of the Month Awards announced
Fri 10th September 2021 | League Awards
By Gary Langley
The August 2021 Goalkeeper of the Month Awards have been announced this week for the respective Divisions have been announced.
PREMIER DIVISION
We are delighted to confirm that The Premier Division Goalkeeper of the Month Award has been awarded to Mike Hale of Squires Gate FC.
Mike Played in five games and was Man of the Match in two of those games. He only conceded four goals in August whilst keeping an impressive three clean sheets.

When nominating the player, the club stated that "Mike has been in great form and a commanding figure behind our defence. In 5 league games he has concede only 1 goal from open play (the other 3 being penalties) and even scored a goal in the 94th minute at Barnoldswick."
Mike is pictured receiving his award from Management Committee Member Michael Ainsworth at Squires Gates home game on 7th September.
DIVISION ONE NORTH
After a number of great nominations for the NWCFL Division One North Goalkeeper of the Month, we can confirm that AFC Blackpool's Goalkeeper Daniel Hall has been given the award for August 2021.
Daniel Hall played six games for The Mechanics in August and only kept one clean sheet but it was his overall play that gained his nomination from the club. Part of which reads "Daniel has come into the first team this season, performed with distinction for the club and gained the confidence of his team mates. He has gained confidence and pulled off some terrific saves, assisting the team to be in a good position in the league at this stage".
DIVISION ONE SOUTH
Congratulations to Danny Hamlett of Division One South club Sandbach United who has bagged the Goalkeeper of the Month Award for Division One South for August 2021.

Danny played in eight games across the month keeping three clean sheets, conceding just five goals in those games as well as picking up two of the clubs Man of the Match Nominations.
When nominating the player, Sandbach United told us 2Danny has been an inspired keeper this month..... Danny has played in every fixture for us this month, which has been a busy fixture list and has kept 3 clean sheets against St Martins at home, and against both Alsager Town and Abbey Hulton away. Danny has picked up no
cautions this month and has been instrumental in ensuring we have the lowest tally of conceded goals in the division."
Congratulations to Danny for an excellent month of performances.
Picture Courtesy of Ian Moore