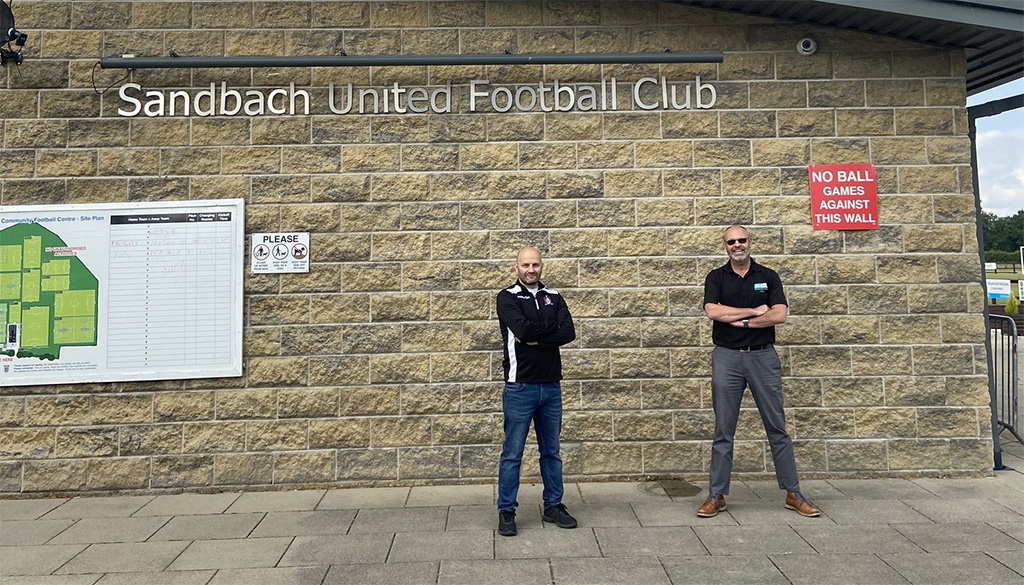 Sandbach agree partnership with Sanitiser producer
Thu 11th June 2020 | Sandbach United
By Martin Fallon
During the lockdown period, a group of volunteers from the first team at Sandbach United Football Club have been working hard to get the facility fit for the start of the new season. Whenever that may be. Despite making improvements to the facility, the biggest priority for the club is the safety of the players, supporters and volunteers. So when the guys from Repclif Chemical Services Ltd presented Sandbach United with their 4in1 sanitising product, Sandbach's safety concerns were eased.
Repclif Chemical Services Ltd is an innovative chemical manufacturer based locally in Crewe. Last year, as Qualkem Brands, they launched a revolutionary sanitising product called Electrosan into the leisure sector and have seen a massive uptake in product demand since the onset of the Covid-19 outbreak. The sanitizer is proven to kill similar enveloped viruses to COVID-19, killing 99.9999% germs in just 12 seconds, and amazingly is over 100 times more effective than regular household bleach.
Electrosan is different to many other hand sanitisers as it is non-alcoholic. It contains Hypochlorous, a pH neutral acid that replicates the body's own natural antiseptic to help prevent infection. It is baby and pet friendly and harmless to the environment, being so much kinder to hands compared to alcohol based sanitisers that sting and dry out your skin, damaging sensitive hands. Electrosan is also a skin antiseptic so great for astro turf grazes, and its doesn't sting when applied.
Qualkem Brands has already given away thousands of bottles to help local care homes across Cheshire during these difficult times, but also has a desire to see local sport restart, but in a safe manner.
When we spoke to Ivan Anketell–Clifford, Managing Director at Repclif Chemical Services Ltd, he expressed his passion for the product, saying "we are delighted to be able to share this product with the local community. To date the product has been exclusively supplied to frontline services. We are now working on an 'On the Go' kit that will allow everyone to safely get back to their daily routine as the lockdown is lifted."
Ivan went onto to say "as a sports enthusiast, I am keen to see the return of sport as its positive impact on people's wellbeing is paramount. We are privileged in Cheshire, if not regionally, to have a flagship sports facility at Sandbach United and it would be just perfect to see the club lead the way when it comes to the safety of their players, staff, supporters and away team visitors."
Sandbach United have around 3,500 to 5,000 visitors on a weekly basis, the safety and welfare of all their guests is paramount. Therefore, the club will be building hand sanitising stations all around the facility, they will be positioned on fences around the first team pitch, in the club house and in the changing rooms. The benefits of this is that all visitors, whether they are players, supporters, children, or parents feel safe and know that they are in an environment where their safety is a priority. As a football club we hope that this will revolutionise the way that football clubs are portrayed. We feel like if we can lead the way when it comes to hygiene then hopefully other clubs will follow and then we can get back to playing the sport that we have been lost without recently as soon as possible.
So, if you do happen to come down to Sandbach United Football Club when it eventually reopens, be sure to check out the stations that are situated around the facility and make full use of the sanitising products on offer, as it will go a long way to help ensure that Sandbach United is a safe environment to be in.
Photo of Secretary Mike Senior with Ivan Anketell-Clifford. Article by Sandbach United's Jack Beresford.