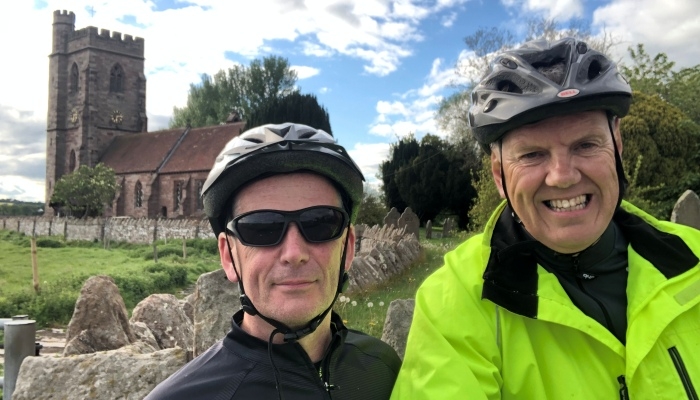 Eccleshall support fundraiser in memory of Jake
Wed 15th May 2019 | Eccleshall
By Jim Tunney
Towards the end of last year, everyone at Eccleshall was stunned by the untimely death of their young midfielder Jake Standbridge.
Some seven months later, many at the club are still coming to terms with his loss.
As a mark of this, a large banner in Jake's memory has been displayed home and away at the remaining games this season in the Eagles' Division 1 South campaign.
Clearly, this has also been a painful and difficult period for Jake's family and they are now devoting their efforts in his memory to supporting the charity North Staffs MIND.
Club secretary, Jim Tunney, said: "Jake's dad, Brian, is looking to raise funds for North Staffs MIND and is hoping to get support in this aim by tackling a cycle ride from Stoke to Paris.
"We wish him well with this and if any of our football family out there would like to contribute, I know he would appreciate it".
Brian tells his story below.
"The "Mid-Life Cyclists" Stoke to Paris Bike Tour is being undertaken in memory of our much loved son and brother to Lauren. Jake achieved so much in his 21 years and was our inspiration.
"Our 4 pc. jigsaw is now only 3 pc, but we are so thankful and proud to have had the privilege of knowing and loving such a unique, vibrant young man.
"Jake and I had a special bond built around a shared love of football, which normally involved a lot of laughing, horsing around, betting and banter!
"So, here it is. I'm embarking on a real challenge even for me, to raise money for the North Staffs MIND.
"Proceeds will go to supporting awareness and counselling to local Sports Clubs and is supported by Staffs FA in conjunction with the local FA Academies including Stoke City FC who Jake played for every year from age 9 to 16.
"For those of you that know me, I'm not a natural cyclist and have only undergone approximately 20 training sessions for this, squeezing it between work and travelling away. Marathon /club running is my sport of choice, and what I may be better known for.
"But I will be in safe hands of our good neighbour and dear friend Nik Green who has cycled for many years. Nik will be my guide and mentor on this tour assisted by his many techy gadgets!!
"The tour starts on May 15th and finishes May 19th. Everything we need we are carrying on the bikes….some 370 miles with 4 sleeps and a ferry.
"Jake will be with us every turn of the pedal, laughing his head off at me and taking the 'Mick' at our efforts and adventures.
"I am sure when I'm hitting the pain barrier – the longest day into Paris being 107 miles - I will close my eyes and think of Jake and this will carry me through to the Eiffel Tower".
Brian and Nik are pictured below.
Donations can be made to the fund through a Just Giving page called Jake's Story which can be found by clicking here.