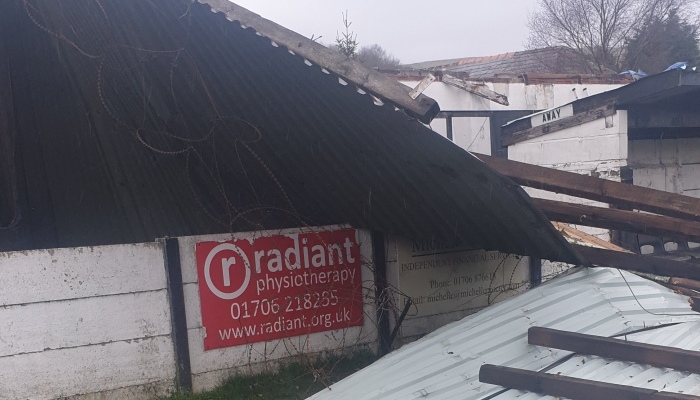 Work continues at Bacup
Thu 21st March 2019 | Bacup Borough
By Ian Templeman
Major building repair work is continuing at Bacup Borough, after extensive storm damage a couple of weeks ago.
The main work has centered around the changing room block, where the roof was ripped off during Storm Gareth early last week.
Bacup Borough manager Brent Peters says that progress is being made, and the ground is expected to be ready to host games from the weekend.
"As everyone can see from the pictures, this is a major job, it is not just a case of putting a roof on.

"The electrics were damaged, meaning running a complete new live feed was needed throughout, and we all know what the weather was like last Saturday.

"The majority of the North West Counties League was decimated through heavy rain and waterlogged pitches, and the fact that our changing block roof was destroyed, leaving the changing rooms open to all the elements, added further problems to an already major crisis.

"All of the inner ceilings were brought in, leaving a major clean up operation, but this could not be started until the roof was back on.

"Work on getting funding for a complete new changing block has started, but even though we have set the process in motion, there are hoops to jump through.

"We are jumping these hoops but we can not start any work until everything has been passed and agreed. There is a process which can take a few weeks to complete, this leaving us between a brick and an hard rock.

"On Saturday we are due to host the First Division Cup Semi Final first leg, and the simple fact is it has to go ahead.

"We are not fortunate enough to have the guys from the TV series Sixty Minute Makeover, I am indebted to Martin McNuilty, Matthew Dell, Andrew Walker, MKM Builders Suppliers, and Lowis Holding who have all helped me with a major effort in ensuring Saturday's game can go ahead.

"There is still a lot of work to do ahead of Saturday, but the main thing is we have got a temporary roofing fix into place, to get us through four home games and a Semi Final.

"The electrics are now working which feeds the boilers, so the showers are working, so with all the effort from myself and the guys mentioned, I am confident Saturday's game will take place. It may not be a pretty site, but a roof over our heads, showers and heating is all that matters".
The photo below shows the damage to the changing room block, which is located behind the dug out.
The club have set up a Just Giving page, to collect donations for covering the cost of repairs, which can be found by clicking here.